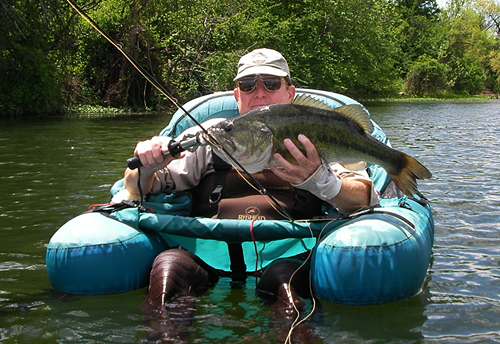 Clifford Hilbert saves the day with a beautiful 6.5 (notice the Boga) pound largemouth bass today.
I got skunked! I hate when that happens!
On the way to getting skunked, let me throw out all the excuses I can come up with:
1) It was windy, crazy windy
2) Standing up in my Native Ultimate, did I mention it was windy – like from every direction
3) I had never been to this location before – heard about it though
4) Even though I needed the heavy rod to cut the wind – an eight weight?
5) What flies did you say were working
6) A cool front came through yesterday
7) I brought a camera, a tape measure and a Boga – each equal to bringing bananas on a boat
I saw a familiar pair of shoes on the shoreline when I launched my Native at the Sunday location. That coupled with the LSU sticker on the pickup with the tailgate down … it had to be Clifford Hilbert.
I made my way out into the pond and was immediately struck by the clarity and huge amount of hydrilla. Large areas are already showing signs of shallowing up to the point of being impossible to fish. In a couple of weeks the hydrilla will probably close in even further making the pond about one-third the surface it is now.
I finally caught up with Clifford way back in one of the upper reaches of the pond, and he already had a massive stringer of panfish and a couple of very nice crappie to top it off. I followed his advice and began working the sheer shorelines and holes along the narrow area, and he volunteered his spot to me. I didn't have the heart to tell him I thought I was useless today.
He gave me some space, and worked his way down about 25 yards, still working a tiny fly for panfish along the edge of the hydrilla where it falls off to deeper water.
Suddenly I heard, "Whoa! That's a nice fish!", and just as I turned to look I saw a largemouth clear water, and go head first back straight down. Clifford had a hold of a nice fish, and I was close, so I pulled in everything – line and anchor – and cleared the deck. Clifford was in what I call "negotiations" with this fish, because a size 12 fly and a three weight leave little room for error or stiff arm tactics. All she would have to do is bury herself in the hydrilla and it would be all over. She turned for the deeper water, and spun Clifford and his paddle boat for a half turn. Advantage Clifford. Rod bent in a perfect U, he kept the pressure on, and she finally tired and surfaced where Clifford lipped her and held on for dear life.
It really doesn't matter where you are, in Texas a 6.5 pound largemouth bass is respectable, very respectable. We floated around each other taking pictures and admiring the fish. A bass that size has certain characteristics that take over; bugged out eyes, a NASCAR beer gut, and a mouth that would fit a clear quart bottle of Miller High Life – no problem. Just beautiful.
Thanks Clifford, for keeping today from being a total stinker. For those of you who want to know more about the spot, be sure to check out "The Fray" under the thread "HOTSPOTTING". There are conditions for seeing the thread, but don't you think it's time to get on board?
Category: Equipment, Fishing Reports, Kayak, North Texas, Technique