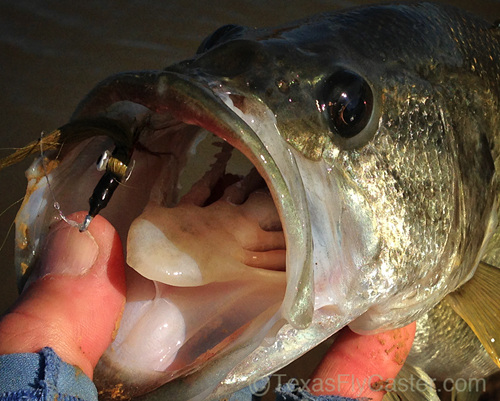 – I've seen some whacky estimates on people's photos (captured this same way) lately. They would have you believe this is a five-pound monster, when in fact it's a bit less than three. Check the tongue-thumb-fly ratio for a better estimate. –
Welcome to wherever you are this Monday morning. We have been subject to eventful weather patterns the past few days, and although I am a little worried about the weatherman's accuracy, according to them we are in line for more unstable weather this week.
It's all good though. We need rain everywhere in varying amounts of A BUNCH, so if it falls above, below or on your favorite dust hole, be glad.
I managed to spend Easter afternoon searching and casting along the flats, and did find that largemouth bass are moving in from the deep, and gaining strength as the cold lethargy wears off. It was the best day I've had for bass since last fall's final binge eating. If you were thinking of booking a trip out to the lake for bass, the window is open. I would advise actually doing a half-day starting in the afternoon and going to sunset, as the water really begins to heat up the action. None of the fish I caught yesterday were under two pounds, and the last angry bass I caught pushed three pounds (and was a male). Let's just say the eat is on. I did try to get back to everyone who's contacted me since last December about guided trips, so if I missed e mailing you last night – e mail me again, and lets' talk calendar.
When it came to carp, they are still out there somewhere, just not in the flats yet. It's a whole new ballgame with the water being so far off the flats. I am hope I can later say, "It's the worst of times, and the best of times," but that word "time" is the most relevant. Time will tell …
I'll be in Houston the next couple of days, so maybe I can get loose there and see if there are any fish west of Downtown Houston. I haven't had a lot of volunteers to show me the way to Houston (proper) fly fishing so far, but maybe I can connect this time. There's just so much water there! I do have some anecdotal information on hybrids at Conroe, and we all know how I feel about those loco palmettos.
Be sure to follow me on twitter @texasflycaster – IF YOU WANT up to the minute information on how this spring fly fishing is shaping up wherever I am at the time.
Category: Adventure, Culture on the Skids, Fishing Reports, North Texas