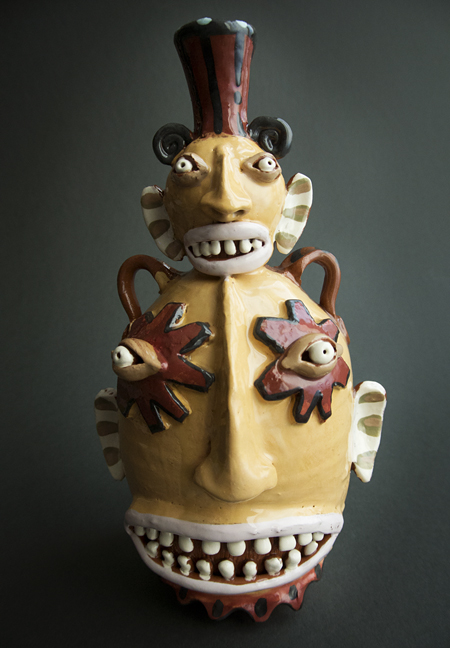 Southern Folk Art Face Pot by fly fisher Carl Block of Waxahachie, Texas.
I was out on the Shale last night as this cold front finally blew by. Thankfully, my shift ended before I was exposed to the full forces of Mamma Nature. At least I had our trailer positioned out of the wind, for perhaps the first time ever. The are flurries blown into the corners and cracks this morning, and temperatures are firmly in the 30's today.
This time of year it's easy to see why no one is out wetting a fly line. Holidays, Christmas and whatever flavor holiday you enjoy, parade through the month of December. This year, there appears to be a revival of joyful, thoughtful spending – although we're a long way from the drunken eggnog spending of yesteryear.
It seems that Citizens have decided that the have had enough of the "wait and see" after the last election, and are settled with "what you see, is what you get," for the next four years and moving on. I quit the news cold-turkey the day after the election, and my blissful ignorance grows exponentially daily. It already feels like I've added decades to my life (sorry all you haters out there). I have no idea what's going on in DC now, and it doesn't really matter, does it? I think we are all starting to figure that out.
And since I am nowhere near water (or anything else) right now, in the suspended animation of working in far north and slightly west Texas (dust bowl country), I figured it may be time to roll out some fly fishing fiction for your cold nights by the whiskey bottle fire. When it comes to fly fishing, fishermen and fishing, what is fiction anyway?
OBSERVATIONS
It's time to roll up the rug on the traveling pedlar show, Cimarrona, for 012, as we just finished the biggest show of the year, and now Leslie has only the funfest of an open house at her new huge studio in Denton, Texas. It's an annual last-minute opportunity for friends and customers who may have been putting buying off to the last minute can come by and pick up something from her huge new studio in Denton.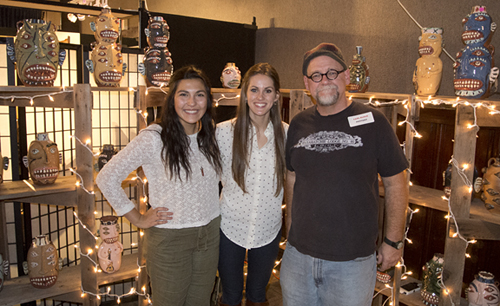 Two of Carl's students and Carl working the Randy Brodnax at Sons of Hermann Hall in Deep Ellum last weekend.
Our last show at the Sons of Hermann Hall in Deep Ellum, was the Randy Brodnax Christmas Show last weekend. It's the event of Leslie's year, and we have been privileged to be next to Carl Block who is a potter and teacher from Waxahachie, Texas. Carl's work speaks to us, and we are beginning collectors of his North American Southern Face Jug works (his work is at the Webb Art Gallery in Waxahachie, Texas). Anyway, spending two days with a guy, every year, in close quarters can be illuminating – especially if he fly fishes. Carl's an Odd Fellow, and Carl fly fishes.
Carl and I got off on a subject that I had been grinding on for awhile. It's about the malaise that has gripped the fly fishing community for awhile now, "People are just tired. Unless you can show them the spiritual refreshment," or some kind of soul revival, they are jus too tired to go do it. I have been reporting on fly fishing here for a number of years now, and assumed that readers equipped with the knowledge would find their own soulful moments in their own successes and experiences – the landscape, the people they meet or the drive to destinations, some nuance that I probably missed. It hardly occurs to me to dictate what someone's soul could, or should take from a fine fly fishing experience. I'm no therapist, nor sociologist, but perhaps in these trying times, a sharing of the soul of fly fishing could be necessary. Sounds like a lot of soup doesn't it? Like I said, I've been grinding on this topic for awhile, and once the rusts off, I will see if you think it shines – little by little. Mental adventures are endless …
Category: Culture on the Skids, Life Observed, OFF TOPIC, On The Road, Writing