#outdoorjournalist texas fly fishing art #texasartist #flyfishing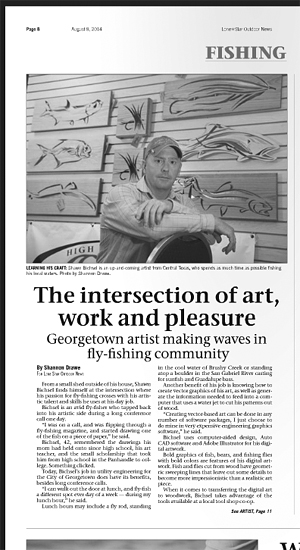 Thanks goes out to Shawn Bichsel and the guys at Living Waters Fly shop in Round Rock, Texas, for helping me make this article happen. I am glad it saw the light of day, and I hope to rewrite the manuscript to submit to a few magazines as well. There's a lot more photography for this article, but I have to hold it back until it goes through the digestive tract of the magazine processes. How's that for a visual?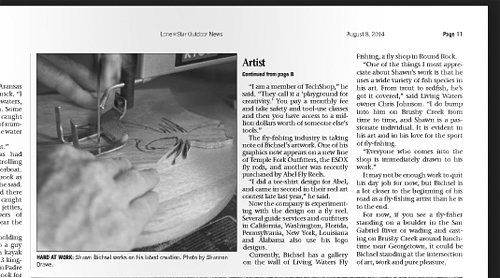 Visit Living Waters Fly Shop to see Shawn's work in person, and see Shawn's website at www.sbixel.com.
Pick up your copy of the Lone Star Outdoor News at regular locations, like Tailwaters Fly Shop, Dallas, or read it online – here.
For those of you who don't already know, there's an open FlyYak outing tomorrow on Lake Ray Roberts for kayak fly fishers who are interested in getting out. It's late notice, but the time just appeared on the calendar, and it appears to be the right time for something like this! Contact me now if you want details. It may just be a humdinger!

Saturday night at Dan's Silverleaf it's the one and only Joe Ely. Click on the music player to hear one of his tunes. He's a great musician from the West Texas dust. Dan's is a non-smoking venue, and the last time we saw Joe Ely, it was very "civilized" – not too late, not too long, not too short and started ON TIME. Am I getting old, or what!!
Category: Culture on the Skids, Fly Art, Fly Shops, On The Road, Writing