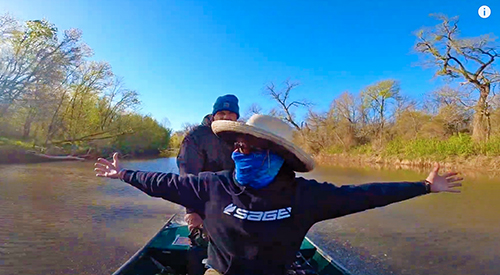 There will be a new video segment out soon, and it will go over the importance of keeping a fly fishing calendar, or diary, to help we who are of lesser memory and greater activity; to keep track of your fly fishing adventures as a reference of what can happen or no longer happens (in the case of the Denton Greenbelt Debacle) every year going forward. And we do want to go forward, don't we?
I admit I have become lax at times when it comes to my own written notes (which I will discuss in the video) in recent years. So many times it ends up on video, and I move along assuming that is my version of a "note" to look back at and remember what was happening when. Compared to my original method (which I will discuss in the upcoming video), videos are actually an average fly fishing calendar reference.
HOWEVER, there are some videos that go beyond. They stick in you mind and you look back to find when you put out all that effort to make that video, and the accompanying results. The video, a year ago today, was a happy time for all involved. Jeff McKenzie had not yet fallen off an 18-wheeler in the Peterbilt factory, shattering his shoulder temporarily squelching his fly fishing expeditions. I was in a different state of mind as well – more of a fun-loving criminal than I am today. That makes this video an even better reference actually … something to get back to if not literally, at least spiritually.
RUNNING UP THE TRINITY RIVER – Ray Roberts to Gainesville Outskirts
CONDITIONS now are different than they were then of course. We are advancing in a drought and you can assume the flows are different right now – potentially non-existent – along this stretch of the Trinity River from Ray Roberts up to Gainesville. If you have any knowledge of conditions there, please feel free to let us all know. There is zero chance of me bringing my fragile glass boat up something like this, but it is perfect for a Hog Island or small aluminum boat – – emphasis on SMALL right now!
Category: Adventure, Backcasting, Body-Mind-Soul, Life Observed, Science and Environmental, Soggy Bottom Boys