fly fishing port O'Connor Texas #flyfishing saltwater jetties fly line saltwater fly gear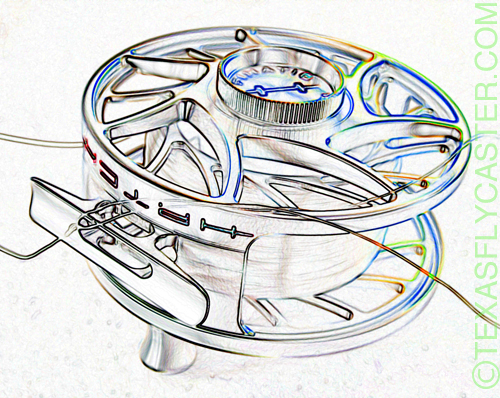 PREFACE – A true story told here from a different perspective. The facts are obvious, and there is no fiction in the story telling either. I hope you enjoy the interweaving of fact and story-telling from a slightly different perspective. I have just about worn out the "i" key on my keyboard, so I thought it a good time to introduce a character through which longer "short stories" might have a different perspective and momentum all their own. Meet Chano …
FLY FISHING NON FICTION
He sat on the edge of the bed, his feet stuck to the floor like magnet to smooth steel. Tired is an understatement he thought. In one motion Chano twisted at the waist, pushed the dog over for his sliver of bed, and began to fall. Before his head hit the pillow he knew this would be one of those sleeps; close your eyes and the alarm goes off. Laying flat on his back, he remembered his feet still stuck to the floor. He lifted them both, stuck together at the knee and ankle, like two limp sausages, and stuffed them into the sheets as if they were a flour tortilla.
The alarm did go off, and Chano hit the ground stumbling. At the end of the line would be the promise of fly fishing one of the great locations in Texas saltwater fly fishing – Port O'Connor, Texas. It was to be two solid days of fishing off a friend's boat, with a focus on heavyweight action off the increasingly famous Port O Jetties. For now, he was just trying his best not to forget anything important. He grabbed his pillow and did his best stingray shuffle out the bedroom door, as not to trip over the invisible black border collie.
Of course he knew there would be some ground to cover, roughly 360 miles separated him from the water, barely further than the journey to the Galveston system, but a world of difference away from each other. In Texas, still just a hop-skip-and-jump away.
Chano began loading the night before, so the remaining items to load in the gas sipping Subaru were the "valuables," like cameras and his Allen bag with rods and reels. The previous long nights were represented in a box of extreme bait patterns made for the jetties. Works of art they certainly were not. Chano never made any claim to fly tying fame, and he wasn't about to start now. He thought they would do, especially if tug came to war.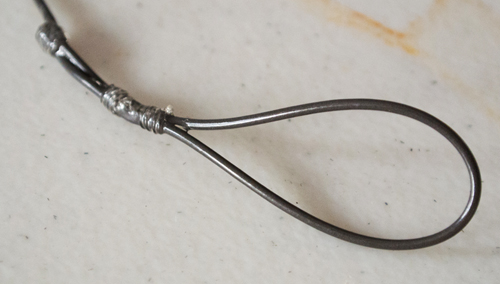 Triple nail knots with 20-pound monofilament fishing line – topped with Clear Cure Goo for added protection.
The mental check of the Allen bag he secured with a visual double-check; Sage Xi-3 12wt., Sage Z Axis 10wt. and a TFO 8wt. Mangrove for the possibility of the jetties being out of sorts. Without reliable saltwater-ready reels, the rods were worthless. A Lamson Guru 3 and Chard's Grand Slam line for the 8, a Tibor Riptide and floating line so old he didn't even know anything about it, but that it was saltwater line, and finally a gleaming Hatch 9-Plus with fresh Hatch backing and lined with a SA 450 Streamer Express triple nail knotted loops front and back attached to double looped through Bimini twist in the backing. Knots and loops, that's how his own mind was tied. He touched each reel, whether encased in a neoprene pouch, or naked in the bag. Feeling is believing Chano thought. All there, including the Hatch, looking like a fly fisher's spinner rims on a real Lamborghini that actually holds like a Dodge Power Wagon.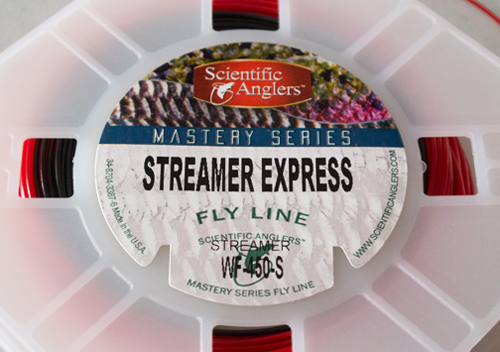 Talk about a ton of lead! 450 Grain Streamer Express fly line sinks fast.
All that is good, but only great rock-and-roll would top it off he thought. He checked for the trusty old iPod. Check. He knew it was recently reloaded with new Tom Petty, Pfish, Moe and a lot more new music to make the time pass by.
Loaded, in and gone. He dreamed through the drive on I35 all the way down to the turnoff on 77 at Waco. Previsualization of the technical aspects of a fly fishing adventure are both critical and bothersome. Chano hadn't been back to Port O in almost a year. What had changed? Would the weather cooperate? Would the fish cooperate? Was there some "new" variable he was unaware of? AND every thought was nagged by the idea that "talking" about it, even in his mind, could jinx his luck.
Chano knew the solunar charts were aligning to go from good to nearly great during the trip, although his time there would be the good, and the rest of the guys would get the great. That's the way it goes sometime.
To be continued …
Category: Culture on the Skids, TECHNICAL, Technique, TIPS, Writing