We saw red at the 2017 Fly Fishing Film Tour.
I know the folks who chose the mini-movies for the Fly Fishing Film Tour 2017 could not have known the outcome of the 2016 presidential election, or the heavy influence Russia, that devious Country, had in that election. Nevertheless, Russia was "well represented" this year, with a good number of minutes of viewing dedicated to Kamchatka – the wonderland where fish fight for your flies, and to Siberia as well.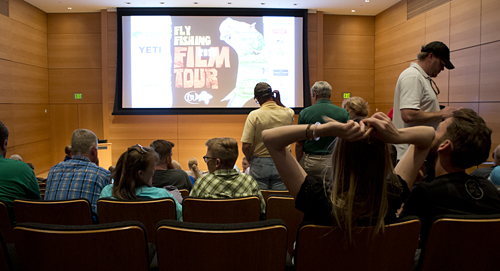 The Russian videos are well done though; a balance of action, story, environmental awareness and sheer beauty. There were two "Yeti videos" that had spectacular production values and locations, but they came off (to me) as too short and unlike a typical story-telling; containing no real beginning-middle-ending that makes for a real story. Probably the biggest disappointment, and what started to be one of the best videos – on US East Coast striper chasing – turned out to be woefully incomplete, and even made the fatal mistake of showing a map of where they were going to chase the huge fish, state-by-state, along the Eastern Seaboard. Apparently, that never happened? Seeing shallow, clearwater stripers from a drone? You'd like to see that, right?
It seemed pretty apparent the crowd that attended this year was emotionally lukewarm, and the disconnect was pretty apparent. My vibe was that the vast majority in Fort Worth, Texas, have no interest in Russia as anything they could afford (about a $10-thousand trip), or would even want to do if they could afford it. It may as well be fly fishing anime.  And there must be a shortage of stories about the Southern United States as well? It could be that nobody did anything on the South (excluding Florida as always), or it could be that videos were done, but not done well? It's easy to wonder these things from Texas, as our State's population increases by 1-million (counted) a year, and the rich stories to be found in Texas, Louisiana, the Redneck Riviera, Oklahoma and New Mexico.
I would have to bet on new videos, perhaps YETI backed, of the south. If I were king, I would put both feet into a Texas video of Alvin Dedeaux and his Texas Hill Country Kingdom, or maybe a "real" piece on the Texas Gulf Coast (end-to-end). Heck, that's what I'd call it, "END to END – Fly Fishing the Texas Gulf Coast." Anybody want in on that project? Money's always the rub, isn't it …
Say Goodbye to the 50 Places
In case you missed it, you didn't. The show "Fifty Places to Fly Fish," didn't quite get to 50 before time and financing ran out on that show seen on WFN World Fishing Network. The money ran out, and Conway Bowman has moved on into a deal with Ford Motor Company USA. Apparently, Conway is sharpening arrows for his new part in the all-around sports shows by Ford.
The future, "Plastics" according to the executive in the classic, "The Graduate," is not plastics anymore. The future my friends is YouTube, and there are videos, probably great videos, there now that believe it or not, I've never seen. If you've never seen the TFC YouTube Channel, which I first posted to about ten years ago, check it out sometime – Texas Fly Caster on Youtube. I can see a time, when MY timing's right, when all content here is delivered by YouTube, or with the help of YouTube. Right now, it's the ultimate capitalist leveler – anybody can participate, and anybody who's good enough at it can succeed. Just hide and watch.
Category: Complimentary Reading, Culture on the Skids, Destination Fly Fishing, Fly Fishing Video