Yesterday the weather came on like a hurricane, here in South Texas. I was surprised at how surprised the locals were by this predicted collision of climate forces. I mentioned to some fellow residents here in the big camp that this (the weather at that moment) was a good dress rehearsal for a hurricane. To that they said what most in the Borderlands think, "… don't say that word," as if not saying the word "hurricane" actually keeps the storms away.
Hurricane Amnesia
While I have spent time throwing down the gauntlet – taking the position that the Lower Laguna Madre is the BEST spot to be on the Texas Gulf Coast – I will also say this section of the Gulf Coast is the most in denial about hurricanes.
For instance, the upper reaches of Highway 100 north of the population center, do have great sand dunes protecting the wilderness. But they do leave a sunken HWY 100 that is a lot like a dry riverbed, dunes against the road on the east and west forming the banks. And where does this riverbed lead to? Right back into town. Fill it with a storm surge, and two inches of rain (or more) an hour? A river will be running through it – Downtown South Padre Island that is.
Then, there are the cuts in the protective dunes for human beach access. Yes, it's the law, and, yes it is convenient. But what happens in a double-digit storm surge? Those are points of access for the surge to breach the beach's protective layer of dunes and vegetation. How could the City of South Padre Island prepare for these two glaring problems. There are simple answers, but is anybody listening?
Yesterday, April 23rd., really grabbed my attention. When I was struggling back to the Island on the Causeway, over to the south between the bridges was a loaded tourist boat struggling against wind speeds that were topping sixty, and waves in the four-foot range … in the Bay! This bluster of weather was predicted in advance, so why would this boat even be in harm's way (amnesia?)? Oh Captain, my Captain,* may we please go home now? Those passengers HAD to be frightened.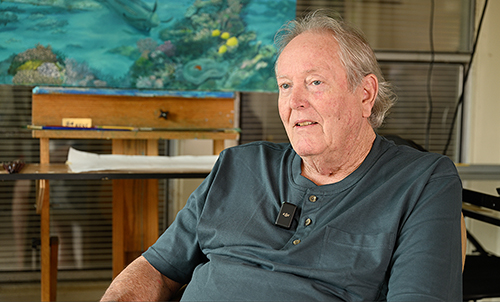 The Calendar
It does not all fit, my friends, all that needs doing before departing south for north in a few days. I managed to get to Harlingen yesterday for the second interview with Larry Haines, this one the "fish" interview, and I did manage to get back home through the bluster. But what remains on the calendar may have been blown away by yesterday's weather. Rather than focus on that, let me just tell you: This interview with Larry Haines is pretty, dare I say, fantastic! Larry had told me a few of these stories in short conversational form, but we get a chance to stretch these stories out … so far in fact, I actually filled my 128-GIG card with video – to the limit. I will be working around that and getting that video up and running after I return north next week. We did the interview in Larry's new spot for his painting studio, and it is a sunroom that exposed us to the weather that came in during the interview, adding a ton of ambience to the moment. Sometimes lady luck does look down, and I feel lucky to have gotten this interview.
WALKING THE SAND – South Padre Island Sand Flats
Be sure to check out this informational video – if you are a big fan of DIY fly fishing. This video is loaded with information, and unfortunately, not with fish. But, all YOU HAVE TO DO is add fish for a pretty easy, but bug bitten, fly fishing experience that only costs you physical energy to do.
Running on Empty
You know the deal. Time is running down, and you're trying to run down your supply of hog fat, beans, taters and coffee. But, the coffee is gone too soon, so you have to resupply Fish Camp South with a new batch of coffee beans before the caffeine crash. Once again, thanks for reading! I must depart for coffee. Have a great week, and I will probably be dark for much of it – if not trying to fish to the last second, then breaking camp to the last hour.
*Walt Whitman of course
Category: Adventure, Body-Mind-Soul, Fly Art, Life Observed