Cimarrona was invited to do the Spring Randy Brodnax "Show by the Lake" this past weekend, and that last part got me on board to help out – no questions asked.
The show took place south of Dallas at an interesting place called the Lancaster Club Lake. To say it's hidden away is something of an understatement. To say it's private is all you need to know. To say I was jonseing to fly fish from the moment we arrived would be extremely accurate. I managed to catch a spirited largemouth bass by the boat dock after the show ended Saturday night, but was surprised that there weren't more takers.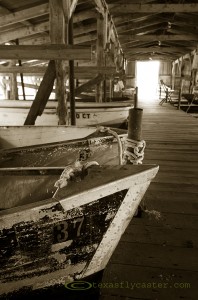 The vendors were set up just above the lake, that gets its water from the Trinity River, and it had all the feel of a time capsule from about 1965. What gave it that feeling was not only the well established lake, but also this boat house for the members that contained a collection of boats that you would hardly know still existed. Weathered, and dented, they were the kinds of aluminum boats you would generally look past, but add the lake and boat house, and you have a location approaching a movie set … for a fish porn maybe?
Mr. Brodnax was kind enough to take me to his (undisclosed) homestead Sunday, and I was able to ply his 40 acre pond in the mid day sun. It beat me down so hard, I begged to go back to work at the Cimarrona booth, and sit on a cool chair in the cool shade. A shiny silver aluminum jon boat gets a bit hot to stand in and sit on these days. I managed another wild largemouth bass on the fly rod, but it was a little far into the midday doldrums to make much of a go at it – especially since I forgot to bring my nalgene of water. I also discovered paddling a jon boat is a lot of work – a lot more than a kayak … a lot more.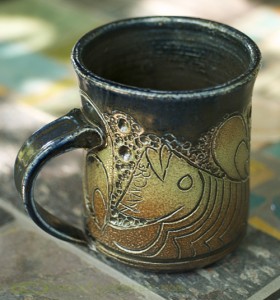 My enjoyment of the weekend was topped off by a couple of new fish oriented Brodnax pieces to add to the growing collection of fish art. I think Randy Brodnax likes to fish.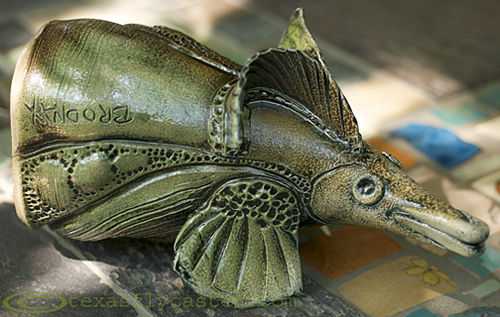 Category: Culture on the Skids, Life Observed, On The Road