Fly fishers are starting to find the time now, to get out and duel with carp and other species common to North Texas. Yesterday was a good snapshot of what is going on in the area.
First – the weather yesterday was absolutely perfect for the flats we hit, and even though I was told things were "strange" when it came to carp, I couldn't miss the chance to put a new fly fisher out on the flats at Ray Roberts to see if he could catch his first carp. Salsa was in town from Austin, and new to the cult of fly.
MAKE IT SHORT!
There were plenty of carp on the flats, but their behavior was more like October carp – very sketchy, spooky and selective. They turned their noses up at the coyote carp fly several times before I regrouped with an off the shelf bonefish bitters in green size 8.( See Tailwaters Dallas for those bonefish bitters.) That pattern proved irresistible for all fish that came near, including a nice gaspergou for Salsa and three carp and a largemouth bass for me. Imagine, a two pound largemouth taking a size 8 bitters. That goes to show how opportunistic largemouth really are. And there were largemouth following the one I caught looking for their own crustaceans as well. There is just something about sight casting for largemouth in a couple of feet of water – intensity! All-in-all the carp really were acting a bit strange, and they definitely aren't in a normal eating pattern for this time on the calendar.
Salsa was a good student as a first timer and although all we could manage for him was a gaspergou, he will be taking his skills back to Central Texas, along with some pictures, and a mission to explore the waters of Canyon Lake, and seeing if the techniques he learned here are viable there. Interesting.
If you find yourself wanting to give the flats a go, make sure to see if Joel Hays, at www.dfwflyfishing.com, has an opening for you to go out with him and fly fish for his favorite gamefish – carp. Things are a bit inconsistent overall, and if we get a long run of predictable winds, maybe we can make heads or tails out of this behavior, and I can zero in on some largemouth bass on the flats as well. Right now, for largemouth on fly rod, it's hit and miss.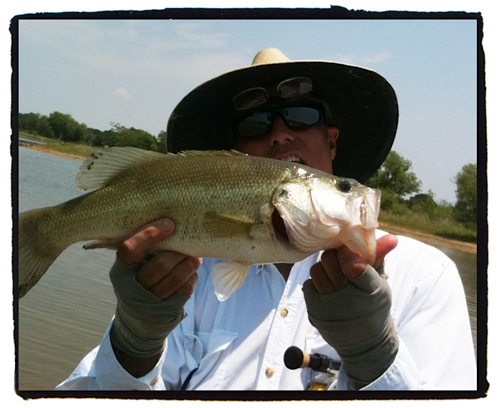 Category: Culture on the Skids, Fishing Reports, Fly Fishing for Largemouth Bass, North Texas