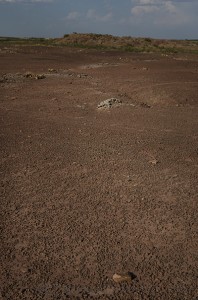 "THE SINGULAR OBJECT FROM TEXAS"
Some of you may have been tuned in during my stint out in the Middle (of nowhere Texas), and the astro-geological ramblings that were centered around the Red River Meteorite. If you were fishing in some exotic location in July, then you missed out on nothing really a fantastic adventure to a location not far from where I was working, a location that had a variety of rocks samples strewn about an area where nothing ever grew.
That, to me, was just another story, another character in the mind play that exits stage right never to return. Or does it?
Through the powers of google, I received an e mail from a science writer for the New York Times. Perhaps the cosmic story was a bit too authoritative? I simply considered it an exercise in research and story development. Apparently google considered it a bit more highly. Anyway, she was hot on the trail of the impact site of the meteorite, and wanted to know what I knew – leaving out the "when did I know it?"
Her other contact is Dan Flores, yes the Dan Flores who edited, and wrote the introduction and epilogue to "Southern Counterpart to Lewis & Clark – The Freeman & Custis Expedition of 1806," a book I now hold in my hot little hands.
Southern Counterpart to Lewis and Clark: The Freeman and Custis Expedition of 1806 (American Exploration and Travel)
Expeditions & Discoveries Books)
Once the ebullience of being contacted by a New York Times writer dissipated, I decided the rocks samples we gathered could as easily be ground into dust, or whatever they wanted to do, by X Files guys in white lab coats here at the University of North Texas – rather than send them off to some other university. Besides, if you were a meteorite, and traveled billions and billions (thanks Carl Sagan) of miles, wouldn't you be humiliated to be put in a dark little box and rattled around to possibly never arrive at your final demise?
And while the plans for delivery of these samples was hatching, and because of interest in the Red River Meteorite percolating, I also added the book "Exploring The Edges of Texas," by Walter and Isabel Davis to my history library. A couple of evenings ago, it occurred to me to even take another look at Texas: A Historical Atlas
Historical Atlases & Maps)
by A. Ray Stephens and cartographer Carol Zuber-Mallison. He is a former professor of history at UNT and she a freelance artist who specializes in maps. There it was on page 60 – the best image of the Red River Meteorite, and a map of the route of the Freeman & Custis Expedition – that shows them being turned back (1805) long before the text says they were actually turned back. The text in the "Atlas" said they were "turned back at present-day Bowie County, Texas … at Spanish Bluff." (Actually it's Spanish Fort) They were turned back, of course, by (Spain) Spanish soldiers. This essentially marked the end of that expedition and retreat into relative obscurity.
The confusion compounds (for me) when reading in the same text that Anthony Glass's party actually retrieved the meteorite (my mistake – it was neither Freeman nor Custis who retrieved it), Glass had been on the Red River north of Nocona, in the Taovaya-Wichita Indian villages in the Summer of '08 and spoke of great natural resources when back in Louisiana in '09. (Caption of photo on page 60 says, "Red River Meteorite obtained in Texas from Indians by Anthony Glass in 1808.)
Wait, it gets better! In the book "Exploring the Edges of Texas," by Walt and Isabel Davis (Texas A&M University press, 2010), the epicenter of impact moves down the Brazos River to near Albany, Texas (a geographic region Flores sees as accurate). The "Edges" book goes on to document and colorfully detail the dueling expedition's (from Glass's party) drive to reach and take the meteorite first – one simply wanting to take it, the other bought and paid the indians for their sacred object. The competing expeditions to retrieve the Red River were the authorized purchasers led by two of Glass's men – George Schamp anad Ezra McCall – while others from the Glass expedition led by John Davis, were the "unofficial" party headed to take and sell the meteorite to the high bidder. Rather than spoil the story, find a way to get your hands on THIS book! It makes something like Larry McMurtry's "Comanche Moon" look like a walk in the park.
Today, we found ourselves delivering the samples to the Environmental Sciences Building on the campus of the University of North Texas. We found our way into "Starman"Ronald DiIulio's office. He took a quick look at our samples, and explained them all away with interest, and then had a colleague slam the case shut (nicely of course) by confirming that we had some interesting things, some slag, some petrified plant life, and including an actual stone that had been chipped on by Native Americans. Although "interesting" the rest amounted to a … pile of rocks.
However, upon accessing the super-secret site on his office PC, the Starman's interest gained some lost momentum. He confirmed the Red River Meteorite, and I know you will want to know; it's a IIIAB meteorite. You can read more about it on that super-secret site The Meteorical Society places their GPS coordinates at the loose 32N 95W, which is nowhere near Albany, Texas, and the error makes sense when taking the fact the first appearance in mass "civilization" with the meteorite was in this area – Nachitoches.
Starman then started opening a few cabinets in his office and showing us a few of HIS samples. Let's just say I held a piece of Mars in my hand today, and leave it at that.
Perhaps this story will lead to another on the Red River Meteorite, but for now it seems very safe to say that the impact area is near Albany, Texas, based on the general agreement found with Flores and the Davises, with the extremely probability that it passed through North Texas around Spanish Fort, Texas. There are still plenty of questions though. Perhaps unfortunately, for Texas Fly Caster readers, I am also one with more questions.
Category: Culture on the Skids, Life Observed, On The Road, Science and Environmental