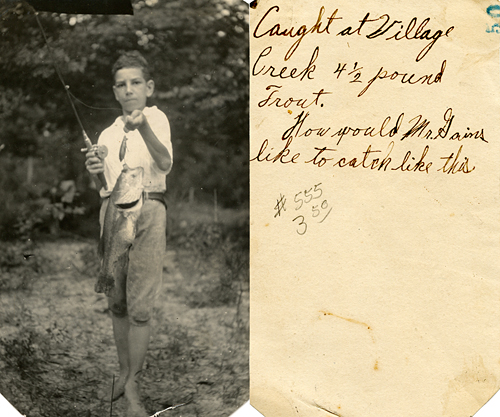 I love the shallow depth of field on this image, virtually out of focus, and the back has the fish identified as a trout. If that's the case, it's a Texas trout.

As a professional photographer and loco fly fisher, I love when photography and fly fishing blend together in some new and unexpected ways. A lot of what is happening these days in fly fishing photography is dependent on exotic locations and exotic equipment, and often times not much else. That said, there's some very creative work being done in the fly fishing industry that relies on the photographer more than the gear or location – and that's what I like.
A while back, I was browsing a store in Dallas and came across some old fishing photographs. My first thought was, "Wouldn't these be fun to collect? They're everywhere, and they can be had for a reasonable cost." I filed that away under "not another diversion," and pretty much forgot about it until I was back at that same store recently, and found some very affordable pictures … and something else.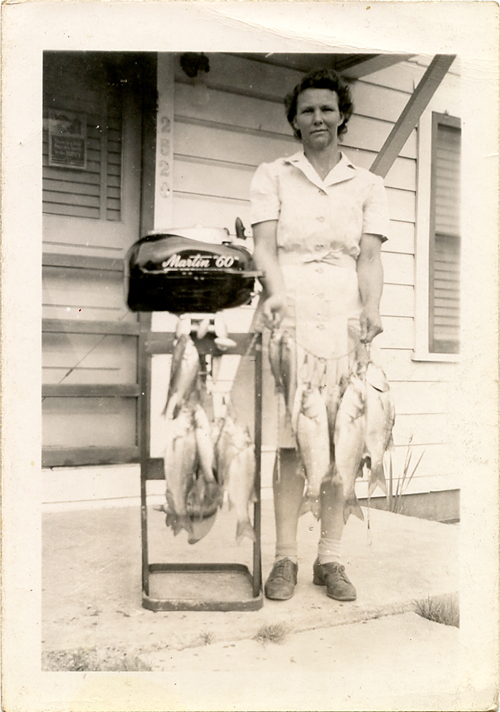 It looks like she's used to cleaning fish, and carrying that new outboard motor. How much more American does it get?
I began to not just look at the photographs casually, as a picture, but as a time piece, a document, and most critically – a study of the psychology of fishing. These images are timeless in a way that pride, happiness and satisfaction have been with man since time began. We know exactly how these people feel, don't we?
We / they may have caught a "big one" a "stringer full" a "limit." Maybe the lady in that photograph caught those fish, and maybe the man did, and had her hold them up for the camera. All I know is she has great biceps! And that's just it; as I look at these, I always see something different – a reel, a location, a bicep or a misidentified fish name on the back of a print written with an old fountain pen.
Someday the images we make of our fish will be old, flat and two-dimensional. They will be replaced by popup holograms, and 3D images that have a camera going right into a largemouth bass' mouth. That's coming sooner rather than later, and our old digital images will look … old, just like these images do. However, one thing that doesn't change is the look on a person's face when they hold that fish. Pride, conquest, or victory … all could apply, and many more descriptions can apply.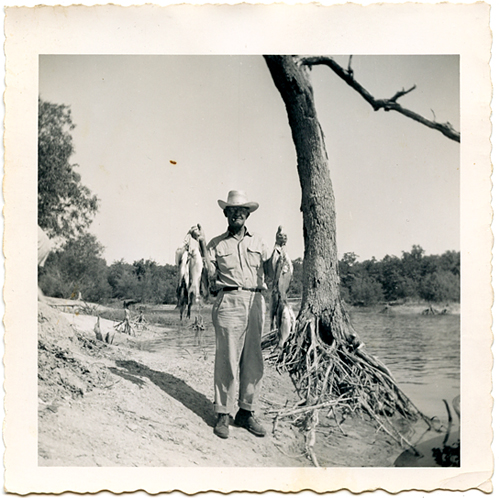 It looks like a great stringer of sand bass. Then you look at the roots of the tree and wonder if there's a drought, or is the shoreline always like this? Deeper looks at these old pictures can reveal all kinds of details.
I have just started this "collection," so I hope you enjoy the finds, and if you find any old fish photography – feel free to share.
NOTE – These were all purchased, and I don't know any of these people. If there was additional information on the back, I scanned that and included it as well. With the reach of the internet, maybe you found these antique fishing photos, and know someone here.
Category: Culture on the Skids, Life Observed, Literature, Photography