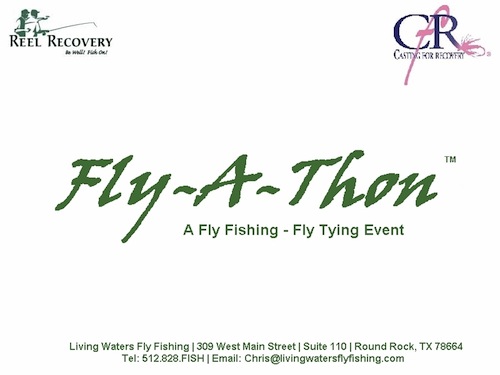 We would like to invite all of our customers to attend Fly-A-Thon hosted at Living Waters Fly Fishing this coming Saturday! Fly-A-Thon began in January and was designed to generate fly donations to Casting for Recovery and Reel Recovery.
These two fly fishing based charities both work with cancer patients and take a number of individuals to fish premier destinations to aid in their recovery.
Both of these charities need flies for the participants to fish with on their retreats and I am proud to announce that so far, through the generous donations of fly tiers in several different countries, more than 2,000 flies have already been donated!
Come and join us for the Fly-A-Thon Grand Finale this weekend as we tie up as many flies as possible for the last day of the event! Living Waters Fly Fishing will be donating over 1,000 hooks to the cause and all you have to do is bring your vise, tools, and some materials!
There will be fly tying demos held thoughout the day by many skilled fly tiers and we are sure that you will leave the event with more fly tying knowledge than you came with! We will see you this Saturday for this all-day event!