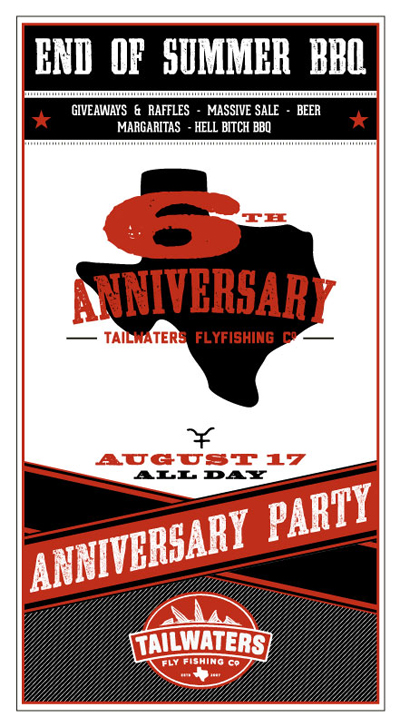 Tailwaters, the fly shop quickly becoming a Dallas institution among active fly fishers, is having their bash this weekend. I hear through the grapevine – THIS ONE'S GOING TO BE A DOOSEY! I am betting on a few surprises, maybe some big news … something perhaps game changing? The only way you will know first is to be there.

I am constantly surprised at the number of fly fishers, in North Texas and surrounding areas, that haven't taken the time to drop in on the guys at Tailwaters, and it makes me wonder … Really? You haven't been to the only M&P within a hundred miles?
Heck, their party is so big you'll find folks from other shops swooping in to promote themselves. (You know who you are!)
If you have been to Tailwaters, you know what the outside area used to look like. Well that's all changed with the new construction outside, and progress in the area. That doesn't mean you can't get outside though! You will not recognize the area, but you will recognize the fun, camaraderie, merchandise, information and knowledge that Tailwaters has come to be known for in North Texas fly fishing circles.
FROM TAILWATERS –
It's that time of year for our annual anniversary bash and END OF SUMMER SALE! Please make sure to save August 17th in your calendar for a great time at Tailwaters with BBQ, Beer, Margaritas, and much more! Check out the details…
Smoked Brisket, ribs, sausage and more from Hell Bitch BBQ
Huge YETI inventory, and other Opening Day camo gear
LARGEST SALE EVER in our AIR CONDITIONED tent!
Frozen Margaritas
Lots of keg beer
PROMO: get a free Tailwaters camo t-shirt with purchase of $50 or more!
PROMO: recieve $25 off any purchase over $100!
Category: Culture on the Skids, Eating and Drinking, Events, Fly Shops, Industry, Store Merchandise