texas fly fishing padre island north texas
DID SOMEBODY SAY I BROUGHT THE SOUTH TEXAS WEATHER BACK WITH ME?
What a difference a few days make? It seems like it's time to welcome North Texas to South Texas style weather, a strong south wind kicks in today and tomorrow? Who really knows the forecast? I think they call this "instability," and it can wreak havoc for those of us who have to plan a day ahead. The further out plans, the less likely they are to come to fly fruition in this weather. Heck, what a difference a day makes! Yesterday, it was January, and now February 1, we are fully into the new year. January, in my businesses, is a tosser anyway. And this January was no different.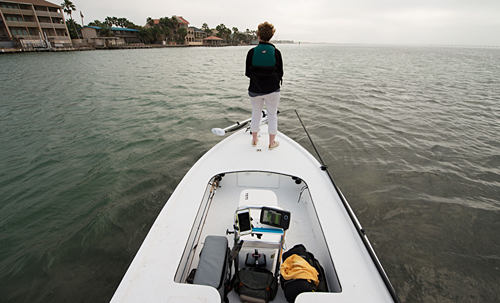 Leslie, trying to add to her success – minutes after a cool front rolled over us.
The recuperation at South Padre Island wrapped up with a straight-shot drive back home at 575 miles. No problemo. The last outing on Friday was a long run to the Brownsville Ship Channel, a run so long that we didn't actually fish much, but acted like tourists gawking at the huge aircraft carriers being decommissioned, and other ships in decomposition. Motoring around those huge carriers, once populated with thousands of US Sailors, has an eerie effect, like floating around space ships docked for repair in a Star Trek film. The visual perspective is absolutely amazing. We were also treated to a show of porpoise by the dozens, in the channel, swimming along, and even an aerial show with two full-grown porpoise jumping eight feet in the air – less than 100 yards away.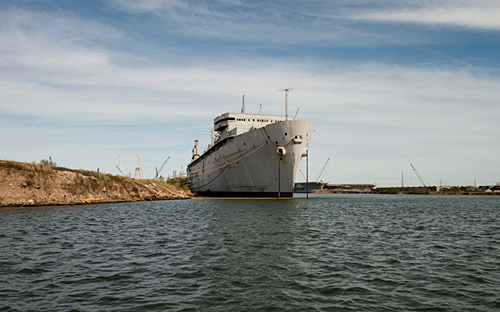 It didn't take much to figure out where fish hold, even if I didn't catch the legendary Texas snook.  Figuring that out in such a short time, gives me a little, no a lot, of motivation to get back to that place again – in season and with less wind whipping us around. I'll deal with the mosquitoes over that wind! For now, those ladyfish are stacked in the nooks and crannies of the channel, and come in all sizes.
A ladyfish fights like a kite on a string on a windy day. They even have the smarts to run under the boat, and look for a way to cut you off. This one was no different. Also known as the "Poor Man's Tarpon."
Here on the home front, we still have water being released from dams and it is probably in an effort to draw down in a serious way – ahead of the spring rains (should they come again). We have extraordinary swings in temperatures that could be putting a dent in the good trout fishing in Oklahoma. Give us a stretch of something, oh Lord, so that we can make plans … what's that? … He laughs? What was I thinking?
If we were to plan a trip to a cooling lake like Monticello, right now, it would be a roll of the dice as whether the weather would be seventy-five and sunny, or 40 and misting.  For that lake, we need the latter, and maybe some snow. It's simple enough to flip the fly switch off or on, but when that switch is between? Sometimes we can hear that crackling electricity in our own internal switches, between on and off, but all we can do is listen.
For now, it's more doctor visits spotting this week's calendar just enough to make planning difficult. And there's the idea that work could be out there somewhere, a novel concept these days, it seems. What does seem to fit, is a try at hybrids (bring the warmer weather and dam releases) in a convenient location. In these strange days (weather-wise), you'll wan to have your rod ready and sitting by the door for a FISH FLASH from here. Today, they're saying wind gusts up to 45 from that south wind and we top out at 75-degrees. What the heck can we do with that?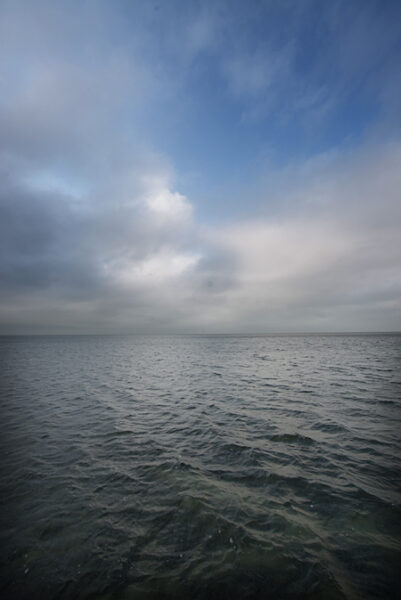 Behind the cool front. Lower Laguna Madre, Texas.
THE DAYS AHEAD
I'll be assembling detailed stories for  you subscribers thinking about South Padre Island fly fishing. It includes details on the local restaurants, entertainment, fly fishing opportunities and our snapshot of what we experienced while there during off-season.
It's about time to try my hand, and apparently my new voice, at a return to the weekly Texas Fishing Reports on the YouTube channel as well. There's not a lot going on in general, so getting back into the swing before spring kicks in will give me a chance to work out the kinks while nobody's watching.
IF YOU HAVE any good stories about fly fishing anywhere in Texas, please let me know. I will be working much more diligently on the Texas fly scene – for publication in various other media, and at the very least here at Texas Fly Caster, the number one website for information on fly fishing in Texas.
Category: Adventure, Backcasting, Life Observed, On The Road, Saltwater Fly Fishing Texas