fly fishing in texas lakes drought
MAKE A DIFFERENCE DO THE TFC SURVEY TODAY CLICK — THE SURVEY
Occasionally, the post for Monday begins on a Sunday. That's the case with this post. The wind is roaring through our big pines out front, the temperature dropping, and this must be winter's last blast.
Waiting, out in greener pastures, the spring lamb faintly bleats, waiting for the lion to give up the ghost, lay down and die – no daggers, arrows or ordinance needed. This was a lion to remember, to measure against, a winter that leaves a mark – in so many ways. Someday, someday those lions and lambs will lay down together.
FORGONE WEEKEND
Now that the spring break tide recedes, in North Texas at least, weekdays are again free to roam to State Parks if you like, or to other locations that have been overrun in the last week.
We decided to forego a day trip to Colorado Bend State Park Saturday past, because the tea leaves were showing the storms and wind that did come, and Sunday's weather no better, actually worse. (Know Before You Go)
As brutal as winter can be, and this one was, spring can typically be an exercise in frustrating unpredictability. Keep your rain gear handy. Don't stand under a tree holding a 9-foot rod in a thunderstorm. Beware of flash flooding in the Houston Bayou Country. And those are just the broad warnings.
Our North Texas waters are still very, very cold. So remember hypothermia if you are on the water boating or kayaking. It'll be weeks before warmer nights make warmer water, and again this detracts from our typical seasonal fly fishing opportunities.
There have been plenty of contact forms coming in related to guiding for carp, but as of now, we are still looking a month out for lakes in the Dallas and Fort Worth area. We will be out with our divining rod every week, looking for any of the typical things (sand bass and such) that have yet to appear. No news fish is no news.
Meanwhile, all eyes are starting to turn to lakes warmed by electricity generation – sometimes called cooling lakes. The ambient temperature, time of year, and warming effect these lakes create, can really be a boon to finding largemouth bass right now. More on that soon.
RAIN
We did get widespread rain over the weekend, for what it's worth. We sat outside under the Fly Bar tin roof, and watched most of it come down – about 1.3 inches Saturday afternoon. If it rains in Denton, that spells water in Lewisville Lake, but after three years of drought … up .36 of an inch over the weekend. Ray Roberts up a whopping .06 of an inch, that's 6/100ths.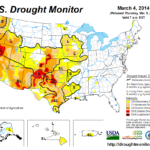 Click on this map to enlarge. Then make plans – TO GO EAST!
Category: Fishing Reports, Fly Fishing For Carp, Fly Fishing for Largemouth Bass, North Texas