fly fishing in texas fly fishing
We're mostly melted here in North Texas now, but there's still some ice down in the shadowy cracks of shaded yards. That should be gone in the next couple days of above freezing weather. After a week of solid ice, everyone was champing at the bit last weekend at the three day Randy Brodnax Show in Deep Ellum, and my wife's business Cimarrona did a bustling trade as we peddled her hats, scarves and accessories at the annual show that marks the end of her retail season in North Texas.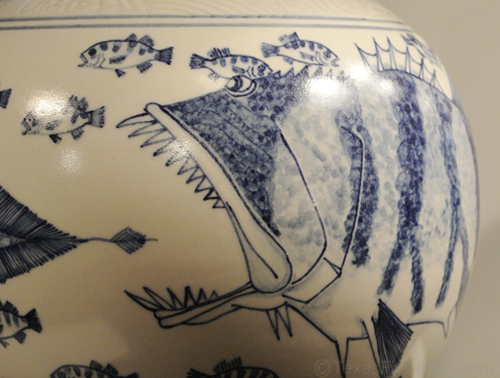 Pottery by Seabrook, Texas' V Chin. One of the many things at the Randy Brodnax Christmas Show.
The thing about doing art shows like the Brodnax is that everyone appreciates the mingling of like minds, everyone appreciates the opportunity to commune with fellow artists and have a prominent display and sale of the things they bring soul into upon their creative adventures.
Leading up to this show, I was in a tear-down mode of changing the ergonomics of the fly tying bench (days of ice will inspire such low priorities to rise to the top), and being an investor (in art) at the Brodnax show brought a neat coincidence; since the fly tying table has more room, why not bring more soul to the area, more juju to give the flies even more power over the fish they seek?
The extensive downtime from the week's ice, helped increase a lot of your supplies of flies I am sure. For me, it not only added several dozen Clousers to the inventory, once the roads were cleared I hit Barlow's Tackle in the Richardson I75 area to resupply with bucktails. INSIDE INFO – Barlow's bucktails are about $3.75 each, and top shelf quality mostly, AND the price is going up. At half the price of other retailers in the area, they have a lot of room to play with their prices, so STOCK UP NOW if you use bucktail.
WHAT BRINGS YOU LUCK?
There'll be another post this week, showing you the new artwork that adorns the fly tying area, and I would certainly like to know if you keep black cat bones, frog tongues, or snake rattles, around or on your fly tying area – for luck.
And "luck" is one of those things that I have been thinking about a lot lately. Luck is a word that I hardly use when it comes to fishing, but use daily when it comes to describing the continuing economic plight.
Perhaps it's time for another installment of the "Spiritual Fly Fisher," this time on the "Power of Luck?" I think it only proper that we talk about the things that bring us luck in our endeavors – because we can also discuss how we can blame those things for our bad luck as well. After all, we are closing out 2013, last Friday was the 13th. — talk about a tattoo frenzy in Deep Ellum last Friday? They were giving them away!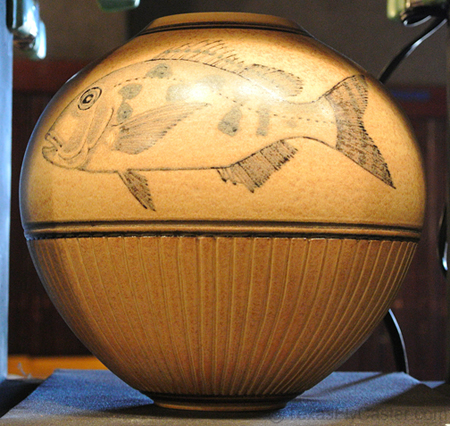 Another spectacular piece by V Chin from Seabrook, Texas.
GIFT GIVING
It's time to shop, and it's time to be shopped for – for the vast majority of us. This is the time when I make things extremely difficult for family – by buying everything I want while ostensibly shopping for them. Want and need almost never get together for a snifter of whiskey anymore, do they? There are some cool things bubbling up these days, although they are less "fly gadget" and more "off the water" related. We'll have a look in the next few days.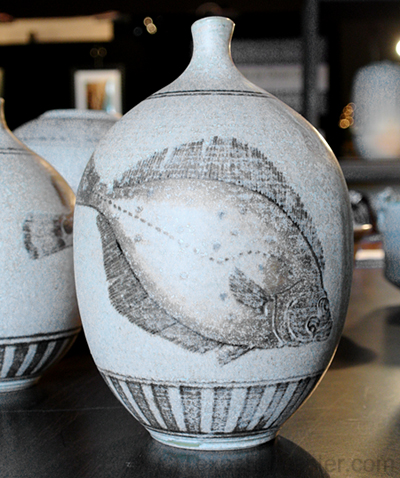 How often do you see flounder on pottery? V Chin Seabrook, Texas
Welcome to wherever you are today. What a difference a week makes doesn't it? Safe driving through dust clouds is now the rule of the week, and potholes of profit abound for the auto repair folks. I am always interested in your outings, and gift ideas, and what brings luck to your fishing and life in general – so let me know. How about I'll show you my new luck charms, and you show me yours – old or new?

Category: Clothing, Culture on the Skids, Fly Tying, Life Observed, OFF TOPIC, Store Merchandise