texas fly fishing drought


Water Wednesday is starting to sound like a broken record. For those of you who don't know what a "broken record" is, feel free to ask any old geezer you know.
Let's go with the old timer's adage, "It always rains," but the part they leave out is that they really don't know how long it is between always. We have finished two years of drought, and here in the Dallas-Fort Worth area, are now into our third year of drought conditions. Thank God for the one good thing about getting older; time goes so much faster than it did when we were waiting for our prizes to arrive from the cereal boxtops we sent in when we were kids! Those old geezers realized what this old geezer realizes, time is relative, and a year is now a drop in the bucket that's getting full.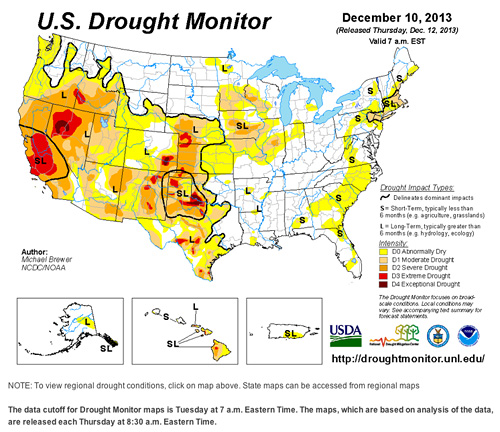 Take a look at the national drought map, and notice that East Texas has no overlay on it. There's nothing profound about the fact East Texas has water, we've made that observation many times here. This just puts it in clear perspective. Look at how the colors break for the West USA versus the East USA.
That further explains my ever growing belief that for the best freshwater fly fishing opportunities RIGHT NOW, it's best to look east, not west.
What I find absolutely shocking are the numbers I see for some prominent lake's levels right now here in Texas. Let's just say fishing, much less fly fishing, on lakes has lost its luster. If you're on a boat, you have to be extra vigilant. I took a look at Lake Ray Roberts Monday, and the water is now completely off the dam's rock rip-rap, and the boat ramp's floating decks at the launches are now at the end of their rail and sitting on ground (no longer floating). In a month, the debates will probably begin as to whether to close the ramps, or not.
Here's a few rounded, not random, samples of Texas lake levels:
Amistad – -36
Buchanan – -29
Canyon – -7
Falcon – -26
OH Ivie – -43
Travis – -52
Lewisville – -8
Ray Roberts – -7
It looks like we have a lot of catching up to do by this spring. I sincerely hope it does "always rain."
Category: Science and Environmental