Good Monday Morning to those of you still alive after an Easter chocolate overdose! Maybe you were lucky enough to sneak out after hiding all those eggs, and do a little fly fishing yesterday? All I can say is, there is a flip side to sleepless nights these days – being ready to hit the water before even the early light. Yesterday was no exception. Civil dawn …
North Lakes Park Pond in Denton Texas
I loaded up and drove over to the Academy Sports about 6:30 yesterday morning, parked there and walked across the street to the once reliable South Pond of North Lakes, and dropped in off the earthen dam for some early morning research.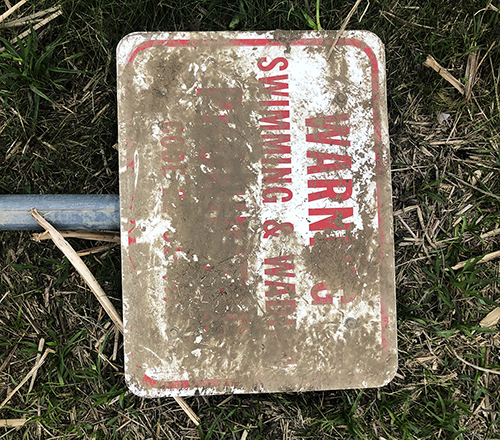 Over the last decade I had stopped fly fishing the pond because it is one of those strange ones we all may have experienced at one time or other: It is classified as a "Soil Conservation Services Basin Pond," and that means it "lives" on Denton parks land, but the City can do virtually nothing to it, for it, or with it – from an engineering perspective.
This no-man's water had been almost as frustrating as the debacle at the Greenbelt Trinity River, due east, across town from North Lakes Park. I have toured this pond's ecosystem with a Denton City worker who was (years ago) in charge of the Denton ponds, made suggestions and was even able to have them implement signs and place them strategically around areas notorious for frisbee golfers wading in to muck around (destroying spawning sunfish beds) to find wayward frisbees along the popular golf course. (North Lakes had an ordinance created banning swimming and wading – that I think was related to two guys drowning there many years ago.)
When it came to real work, purifying parking lot the water running, under the new road, into the pond from the new shopping center across the street (again many years ago) that's where the pond's fishing luck began to run out. With the effluence from the new center, the huge water volume from acres of pavement, and absolutely no pushback from the City? The clock continued to tick …
Today the pond is silted in almost completely, with the main exception being the main creek channel, and the fluctuations in the pond levels leaves a ring of pollution around its edges. Even the "No Wading" signs have been knocked down by some irate hippies who don't know how to throw a frisbee, but are fat enough to push a sign down (reminder hippies were pretty skinny).
Today North Lakes South Pond is not only dysfunctional as a recreational fishing spot for Denton's bursting population, it is also dysfunctional for its actual purpose: A pond created to mitigate creek flooding is now silted in – well beyond conventional casting distances, and will hold a fraction of the water it once held. The North Pond was ruined long ago.
When it was explained to me by a City employee (again YEARS AGO / off the record) that this pond's status was under the direct control of the Soil Conservation Services, and he had no say in beyond the water's edge, I knew … it was a matter of the City workers keeping their heads down in the trenches and not raising above ground level, lest they get sniped at close range. I knew then that it was time for me to walk away.
FAST FORWARD
Fast forward to my Easter fly fishing service yesterday morning, and I felt like the "Indian" with the tear running down my cheek as I walked the shoreline of this little old neighborhood park pond. Trashed more than ever, and that wonderful brown colored water – the new normal – but I was determined to see what I could catch, and prepared not to find a single Easter fish. I started along the dam, at the overflow drain (the only manmade structure and only structure in the entire lake) because it used to always yield fish, and two, because there is still a beaten path down to the drain that is like a sign saying, "This Way to Fish."
Choosing a dark fly for the stained water, I beat that drain to death and into the afterlife. No bites at all, not even from the resident crappie the path had led me to, apparently in vain. I was reduced to basic strategy that lead me around to the warmer side of the lake (North!), slowed stripping way down when I felt a tap … and the crappie at least, were found. We know; where there's one crappie, there'll be more. Two pasty colorless crappie were all I could manage before my stomach started growling, chocolate … chocolate … chocolate.
MULTI TASKING
This week is a transitional one for what you find here at Texas Fly Caster. While the debacle at North Lakes, the disaster at Denton Greenbelt 380 Park are simmering in background, I will be heading to Fort Worth to do an environmental story on that disaster on the Trinity River with Matthew Clemons, and preparing for my second SHOT, and to go to Houston to cover the Houston Fishing Show next week, and … fish! The video on the North Lakes pond will be on YouTube as soon as I can get that out, while at the same time I am trying to assemble a group trip to the Brazos below PK trip for a writing project I am obliged to do – – any takers on this trip? I will probably be doing it a few times, but am at a serious disadvantage now when it comes to my own watercraft! I have no viable canoe or kayak to do this tripping with, and my need for one only gets more desperate for the next few years. Contact me about the Brazos – to go or let me know what you know! It would be greatly appreciated.
The fly line mat orders are piling up as well, so that my nights are spent making those, and lunch hours are spent tripping to the shipping outlets. File that one under; be careful what you wish for.
Continuing along the multi-tasking trail, there's a couple of major improvements to finish on the skiff – the Shaw Wing, and one last piece of SeaDek from TopDek Manufacturing (located right here in Denton), but other than this list and high hopes that I will not have a reaction to my second shot? Life looks way different from a year ago, and the less traveled roads are opening up again.
---
END NOTE: There is a "sweet spot" on the North Lakes South Pond, and it if you have a kayak, you MIGHT catch large bass – hand over fist! Roughly situated in the bulls-eye of the pond, it's where the underlying creek bends a little and the gravel from an old road might still exist as a bedding mixture. I have no idea though! That is because I have to find the ride to get me out there!
Category: Backcasting, Body-Mind-Soul, Causes, Houston Fly Fishing, Science and Environmental