Well, as you may have read, I am again down in the Borderlands of Texas, and the fly fishing fits in a bit of a tight window here right now. Heat and wind come along like a blast furnace sooner, or later, and the best plan is to get off the water before one or the other kicks you in the head and makes you silly.
Today we had a lucky break from the wind, and managed to catch a few trout along the spoil bank cuts of the Intracoastal – before retreating to our tried and true spot near the mouth of the Arroyo Colorado. There we managed to add a few fish in a few hours, as the wind picked up and the heat started to climb as well.
I never had any real confidence in any fly I threw today, but did catch the decent speck, below, with a typical chartreuse and white Clouser Minnow. The key to me seemed to be LOW AND SLOW during retrieve, which makes sense given the temperatures. The water temp hit 90 on the electronics as we were leaving.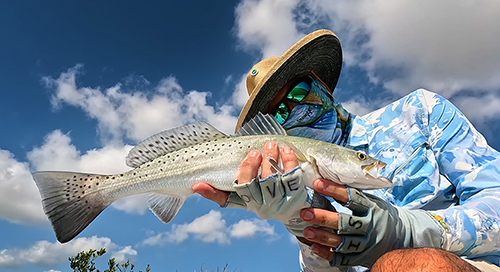 I may have struggled, but Jaime had all the good luck today, including the 26.75-inch speckled trout that was fatter than a tick on steroids … I think he had the right fly, while my struggles to find the right fly only ended when we powered up and headed back to Adolph Thomae Park boat ramps.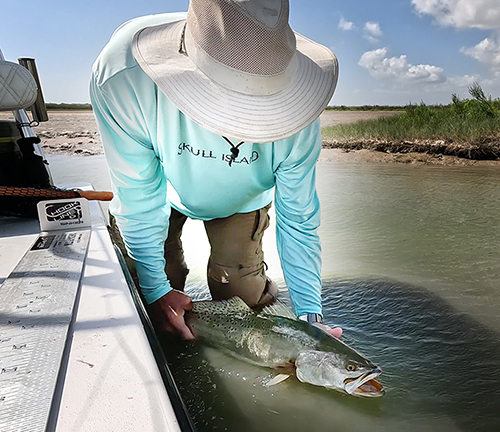 Big speckled trout, in the size class I am seeing and we are catching, used to be a very rare thing. It used to be that once in a blue moon we would hook a trout in the 25-30-inch class. Rare, very rare is my recollection.
I have fly fished this area in the years in between, and the big trout were not as common as they are today. It must be, has to be, the regulation changes that TPWD put in place. And now that those regulations are about to sunset, it is time to speak up! We need to keep the size limits and keep limits the same, or VERY CLOSE to the same for another year at the very least. If we still experience this kind of huge success, then the evidence will be overwhelming that the regulations are WHY specks are getting bigger, better and in greater numbers.
So what do you think? Is it the TPWD regulations that are leading to the quality and quantity of trout we see now?
Category: Fly Fishing for Trout, Saltwater Fly Fishing Texas, Science and Environmental, South Texas, Texas Gulf Coast, Texas Water Conservation