Welcome to a wet and cold Monday Morning, that is if you are in North Central Texas. If you are a duck hunter, why are you reading this? This is weather fit for ducks and not much else.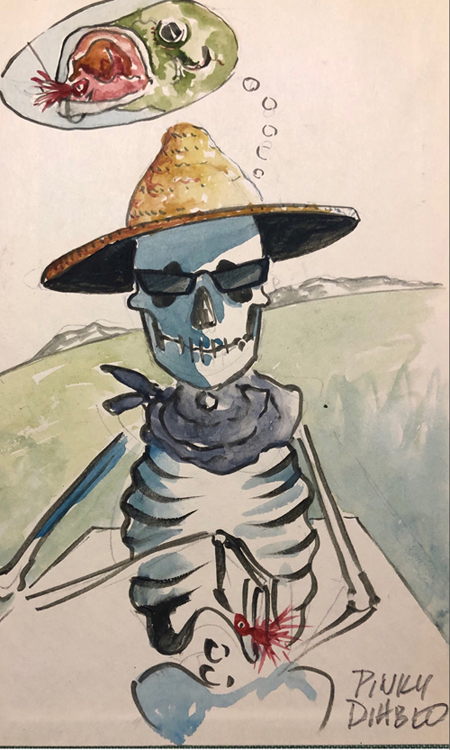 Yesterday was another fine day that just happened to be my birthday, and in celebration, my request this year in the spirit of the times, was a good old American apple pie. The SO obliged with the best apple pie I have ever tasted. The only deviation from the recipe was a little extra nutmeg. So try that the next time you cut and paste your apple pie recipe – nutmeg.
It looks like there is no escaping this weather for half of this week, and once it clears off? What do we do then? I would say head south, but then we would be on the road during a spike in Texas COVID case numbers in Texas. What precautions do you take when you are on the road? Does anyone ever think about full-service gas stations coming back? If you don't need massive quantities of sugar and caffeine, why even get out of your car and walk into a South Texas gas mart station? Your only exposure would be to the person pumping your gas and taking your card – one source instead of, what, hundreds? There must be something wrong with that idea.
The truth is we've had a dry October up until now here in North Texas, so these few days of rain will take the pressure off all my bird baths and water elements. It will also stop the dust storms from mowers all along my street as well – all good things.
Less than one week to go, and October will give way to November. November is that month made fly fishing famous by our original Black Friday events in so many years past. "Blue on Black" were Friday trips to the Blue River in Oklahoma (just 95-miles away), and then there were those "Flounder Run Fridays" in Galveston, a small window of time – a snapshot really – with great numbers of flounder caught on fly on Sea Wolf Park area. That level of action is apparently gone forever now. I wonder what else we can do on Black Friday? There's always time to find new fish life, new fish civilizations … to boldly go where no fly fisher has gone before (yeah, I'm a Star Trek originalist).
So we are winding down October, and there weren't too many October surprises other than some crazy big carp in the undiscovered north of Ray Roberts – on the charts for next year by the way – and new raft trips close in to DFW. I see no reason to be cautiously optimistic about 2021. We are fly fishers after all; some amount of optimism is in our systems, no matter the reality.
Category: Blue River, Body-Mind-Soul, Culture on the Skids, On The Road, Texas Gulf Coast