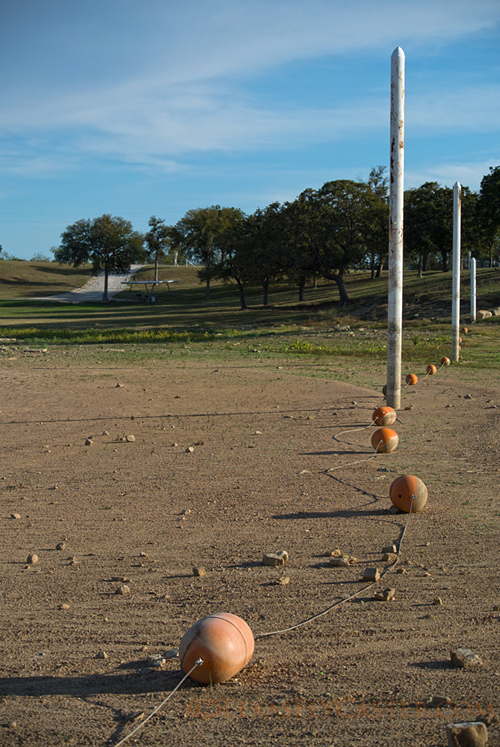 Imagine water about eight feet up those poles, and you get the idea about Lake Bridgeport.
I finally made it out to Bridgeport / Hideaway Bay last week, and two words pretty much sum it up – don't bother. It was so bad .. how bad was it … I really didn't even bother to pull a fly rod out of the quiver.
I always take reports with a grain of salt, so when I read 12 feet low and when I read the TPWD reports, I mix them together with the Chamber of Commerce reports and convince myself that it's somehow worth the trip. Next time you hear me doing that, be sure to talk me out of it.
Sometimes, when lakes drop, they present new opportunities and new access, but sometimes depending on the lake, the drought can just go right past opportunity into disaster. And that's what happened at Bridgeport. One foot, heck even four feet can do some good things, but twelve feet at Bridgeport means you might as well move on down the road.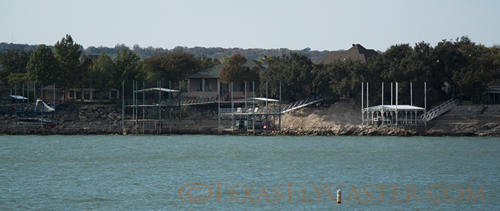 Private boat docks and piers are high and dry at Lake Bridgeport, Texas.
The line between East and West Texas cuts somewhere nearby, but you know you're west when a lake is down twelve feet. The west side of the line is still in the throes of drought – some more and some less. There are lakes out there that are better off, but you would have to go a ways to find one worse off than Bridgeport. It should be pretty obvious from the photograph – lakes aren't supposed to look like this.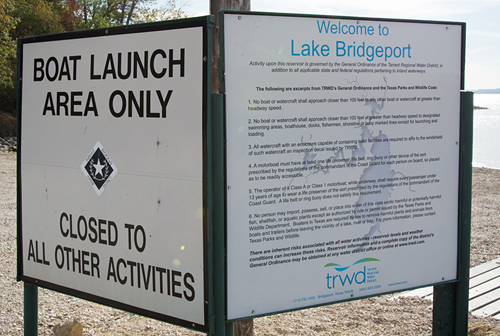 This is the signage at a boat ramp near the dam, and probably the best prospective place to fly fish, but signs say ABSOLUTELY NO OTHER ACTIVITIES except boat launch, and areas are fenced off. Not friendly at all.
File this one under check it again later and twelve feet higher.
Category: Fishing Reports, North Texas