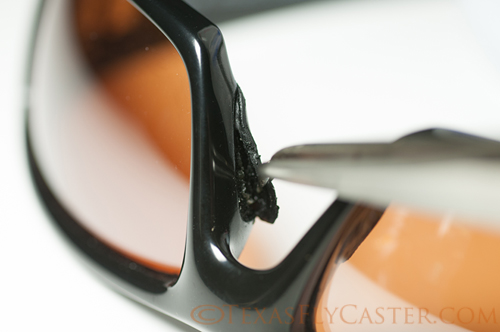 Houston, we have a small problem. I've had these awhile though. Read on …
Fly fishers, especially those of us who sight cast, know the importance of being able to see what we are casting at. I have a couple pairs of sunglasses, and in an effort to get to which are best I spread the wealth around, and own a pair of Smith Optics and a pair of Costa del Mar shades.
Both are tinted for shallow freshwater, and both cut through the surface very well. The choices on lenses when it comes to Costa – are daunting. Not so with Smith.
I have probably had the Smiths a couple of years. They stay up, are rugged and have been dropped on their lenses without a scratch or ding. I would rate the glass a five out of five. Early on I managed to drop them while fishing and watch them slide down a bridge cement embankment stopping just short of the water. When Dusty handed them back to me, I just laughed … to keep from crying.
They were open, so instead of cartwheeling, they just slid on the cement pulverizing the top of the frame and temples. User error.
Later, it dawned on me that the consistency of frames is a lot like a fingernail. I took one of those multi-surface emory boards (from Sally Beauty Company) and sanded down the frames, and using the finer side of the flexible board polished the frames back up. The deepest dings are still there, but they are shiny! And I was able to smooth and shine the smaller ones completely away.
Lately though, the Smiths are losing their grip on my nose because the rubber inserts (which had been worn smooth) are finally coming unglued. The frames are pretty hard, so they had to put in these inserts to keep the glasses comfortable and from sliding down your nose. I don't know how common this problem is, but I am probably getting in at least a hundred days a year on the Smiths, so some kind of wear was inevitable. My glasses are typically retired much sooner than these due to scratching, so the glasses still get an overall 4.5 star rating. The lenses certainly make these glasses. The problem probably came from sweat getting in between the rubber and the frame, and then cooking with Texas heat. I don't use sunscreen on my nose.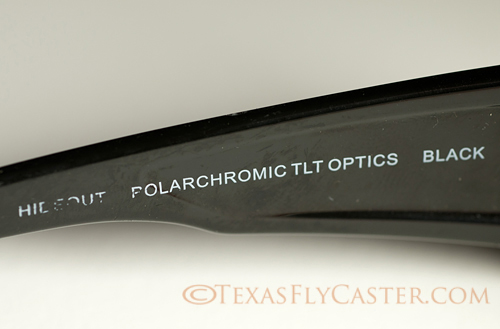 I took them back to Tailwaters Fly Fishing Co. last week, and Sean was happy to take them back and send them in to Smith. No telling when they'll get back to me, but it's nice to have a local fly shop take care of their people and the products they sell. I don't know exactly what policies are for top-of-the-line sunglasses, but if I can still read the style name and lens type on the inside of the temple / arms, I am going to say they have plenty of life left.
Next year, either Smith or Costa will get a chunk of change for a pair of prescription sunglasses, and I will be sure to detail that for those of you who may be thinking about prescription sunglasses – a heck of a big investment.
I will make sure to follow up in the next few weeks with a review of Costa sunglasses, and the most extensive and accurate information on which color lenses to use for which water (thanks to Itinerant Angler!).
NOTE – As is review policy at TFC, I try and follow up after weeks, months and years of gear use – whichever timeframe makes most sense. This is gear that I purchased either at full retail, or by pro pricing terms. If you are looking for a long-term report on gear I have written about, ask for a follow up, and I will let you know how fly rods, reels, lines and everything attached is holding up.