Good Monday morning to all of you readers, recovering from the holiday weekend that wasn't. Living in the present, as I daily attempt, it's hard to imagine a less memorable Fourth of July than the one Saturday past, where I resorted to taking a giant projector and projecting fireworks from video on my laptop – onto the huge oak trees of our neighbor's (in attendance) across the street. Needless to say, there was a lot of rigging going on to make that happen, and I was left holding the 20-pound projector in hand to get the angle right for the tree borne fireworks. It worked, but how could I not think back to those huge shows on South Padre Island, the reunions that were a well blended fireworks show of family, fights, friends, food and fishing.
History does not wait to happen until after already existing historic dates pass. Now, we can have this darkness that overruns several holidays in a row, in the year 2020. Common sense took a dive and now the virus spikes in Texas, so we find ourselves on the edge of a dead-cat-bounce at the bottom of this virus' effects on every aspect of living in the USA, living in Texas. From a president to a governor in lockstep in, for whatever reason, firing the economy back up too soon (in an unmasked free-for-all) , now (are we surprised) we may be looking at another shutdown of who knows what, who knows how long? We are past the July 4 date, which is traditionally a HUGE gathering event in Texas Parks, and now have to look forward to the next holiday – out there looming large and foreboding – is September 7, which is Labor Day this year. At the rate history is moving though? I can imagine bigger news will replace the foreboding of another national holiday well before it arrives. Stay tuned.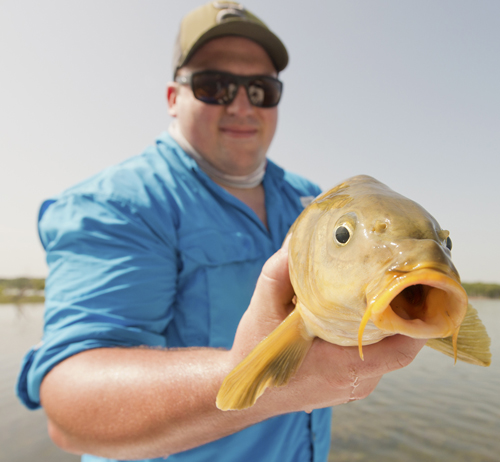 FLY FISHING NORTH TEXAS REPORT
It is still hard to believe how good the flats on Lake Ray Roberts are – on average – every single year, regardless of history, regardless of virus …
Friday was no exception, as the carp were abundant, and the fly fisher on front of the skiff was able to land three of the golden bones before the heat overtook us about 2-pm. The crowds were non-existent on the flats, and the boat ramps were already packed on Friday. My policy of not getting near the water on big holiday weekends stayed in place – and for good reason this 4th. of July weekend. As packed as things were Friday, I wasn't even coming out to gawk on Saturday … the crazies can have it, packed in nice and tight with each other.
Without hesitation, it is time to book your trip on skiff on Ray Roberts. This action doesn't last forever, and the heat has definitely whittled us down to an earlier start and earlier off the water. What I am saying is: Pull the trigger now for some great carp action on Ray Roberts.
THIS WEEK
I am finally running at full speed again, and looking to relocate my world famous (HA!) "Texas Fly Fishing Reports" to a new venue – inside / around the Airstream – just to put a little more pressure on the rebuilders. The old new river, lake, mountain beach house is undergoing a "full-court-press" to the finish line now, where that line is is still not visible to the naked eye though! Add that project to the newly found cache of welding fodder, and we have a recipe for certain heatstroke.
Category: Body-Mind-Soul, Culture on the Skids, Fishing Reports, Fly Fishing For Carp, North Texas, On The Water