Taking a Sunday drive that totaled out at 200 miles is nothing special anywhere in Texas. There was this old Confederate fort in Oklahoma, north of Lake Texoma, that peaked my interest when I saw some photographs by Scott Bridgess last winter.
Fort Fort Washita has ruins of old barracks and a "Confederate Graveyard", the whole enchelada. So, on the first day of sun in about a week, we packed in to the Subaru Forrester and hit the road for parts.
So much of Southern Oklahoma lends itself to the reputation that precedes it – thicket trees and dead ends disguising minions of meth. Generally, the rule on adventures in this part of Oklahoma reads; DON'T GO ALONE, and listen for banjos.
The fort was well manicured, and as lush green as the entire circuit – Denton to 377, straight up to Madill and 199 east to Fort Washita. If you go, don't worry about time really, it's probably an hour for the young and two for the buffs.
Now, what happened is, being the spiritous adventurers we are, we decided to loop it back and go east to Durant and back down I-75 through … Denison. As we were coming in on 75 it was obvious the Red was running full tilt. Translation; they are releasing water at the Dam on Sunday.
Of course we stopped in Denison, checked out the gallery scene in Denison and had lunch. Just like any good Texas town, Downtown Denison was shut down for Jesus Christ – blue laws or not. Everybody deserves a day, if not a life, off.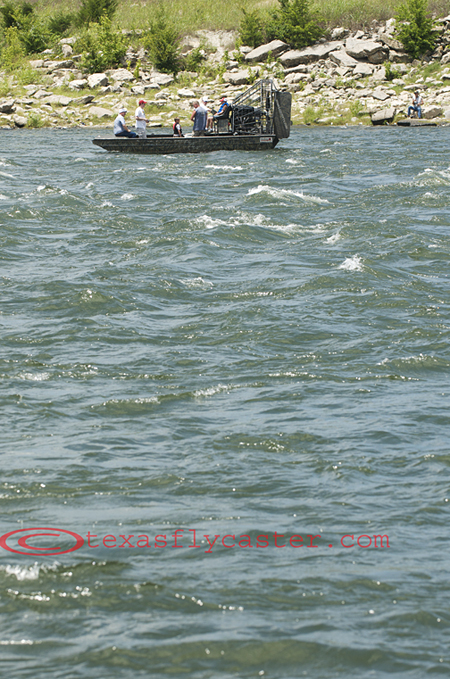 If I am in Denison, it's always a short hop to the Denison Dam – home to some real fun striper fishing, and some frustrating striper fishing. You see, once you get past floating lines in the rock gardens, hitting dinks for counts to 50, you start looking for bigger deeper longer highs. I have pretty much documented that in past posts on striper fishing at Denison Dam, but … I still get a rush when I get close to that place. It is literally an exciting opportunity. To be successful at Denison Dam, you have to do your research. As I mentioned earlier, they are releasing water, and the question is; are they generating, or bringing down the lake level?
Once we arrived at the Dam, it began to look like a lake leveling release, with water (cold and clear water) thirty feet from the second set of steps. Of course an airboat was anchored high up on the Oklahoma side with a load of striper tourists. I love those guys – why run gas through an airboat at two miles-per-gallon, when you can launch off the Oklahoma beach and run fifty yards? "Bidness is Bidness."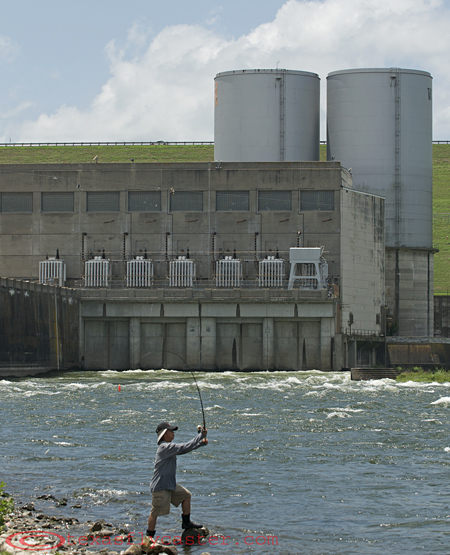 More questions – how long have the gates been open, and when will they shut down. The real party starts just after they shut the gates and go to a normal release for generation pattern. Fat and happy stripers say to themselves, "Hey, where did all that food go?", and will hit any and every thing you throw at them.
By the time I got home today, I was already texting, looking for someone to head back to the Dam tomorrow at the crack of dawn. I can't find many takers these days. Who can blame them? The heat. The wind. The rain. If the gates have been open for awhile, stripers get satiated, and don't eat much of anything I've thrown at them – lady luck steps in.
Still, I have been having this crazy luck with my double bunnies (no not Playboy) lately, and just about everywhere I throw them, so when I got home, I sat down at the bench and tied some more bunnies in striper colors. The only way to find out if any of this will line up in an harmonic convergence of stripers is to go test it all out.
I will let you know.
The Search
Nothing to take back or exchange
Double engine dawn express train
Always dreamin', it's the search not the find
Louder than sounds on stream machine
Or some internal combustion burning clean
Always schemin', it's the search not the find
Door is open, to change your mind
We're chasin' paint cans, 21st century
All mixed up in modern company
Always dreamin', it's the search not the find
Wipe the sound, wipe the video
Some terracota info wherever you go
Always dreamin', it's the search not the find
Door is open, to change your mind
They can listen in and they can nose around
They can listen in but they can never take us down
So leave it to the last believer now
Change in the air it came by turnstile
Always schemin' it's the search not the find
Door is open, to change your mind
They can listen in and they can nose around
They can listen in but they can never take us down
– Jay Farrar [Son Volt]
Category: Culture on the Skids, Fishing Reports, North Texas, On The Road