Wrap it up! I'll take it!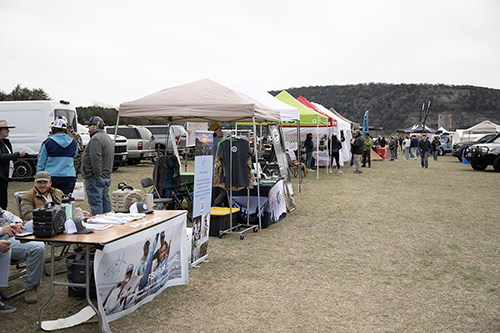 As we pulled into the campground parking lot, it was easy to be taken back in the brain time machine to one of the first TroutFest events I experienced all those years ago. But I could tell this wasn't going to be like your Grandpa's GRTU TroutFest – from the organized parking lot, with helpful attendants, to the long row of tents outside the big tent.
Nope. This event has some chutzpah, some legs to it now … and it's running well. Everything has a "newness" to it when it comes to the facilities, and while visiting the different vendors, it also has a feeling that they have taken their COVID induced time off to really up their road-show games as well.
While those of us who don't bother to get out more can believe the world revolves around our noses, or a river, the Brazos for example, the solid facts have never changed; Austin is the epicenter of fly fishing in Texas – period. If I got a call from Alaska, asking, "where do I start fly fishing in Texas?" I would have to say: Park yourself in Austin, and go from there. Seeing the awful infrastructure that is the Texas highways system – will be right up in your face of course, but the entire State of Texas is in the same state of disrepair … until you get far enough south.
Stand and Deliver
The list of vendors obviously has a geography to it – because of the difficulty of Texas highway travel these days. And that degree of difficulty carries over to the patrons who visit shows nowadays. Most Texas fly fishers, given the choice and the variables? They choose not to get in their cars and drive 250-miles for a great show like the TroutFest hosted by Guadalupe River Trout Unlimited. But if you do as we did last Saturday? You might just learn a thing or two, and you might see a few friends as well.
There are still those who come from afar. Hell's Bay Boatworks would probably take the award for most distant.
The vast majority of my time was spent with the owner of Los Pescadores, and either doing the "who's-who," or first time introductions with the vendors I have procured for the Los Pescadores on South Padre Island. When there is a one-year gap between these events, it's hard to play down their importance.
Fly shops were also a sizable part of the big tent, with Gruene Outfitters, Sportsman's Finest, Gordy & Sons and Living Waters were all present and accounted for. It was also good to see Thomas Flemmons, owner of Diablo Paddle Sports once again, and connect with Grant Braudrick who is our Rep for TFO Fly Rods. Possibly the busiest person there, and a true social butterfly on Saturday, was Greg Welander who had plenty of ground to cover before heading back to North Texas to guide a Californian on the Brazos River.
In the limited time we had on the ground, we missed plenty of my friends who were there. Fishing's Future had a huge trout tank going FOR KIDS! and we never made it into the lecture or fly tying areas either. There was also plenty of support from TPWD, support that Living Water's Chris Johnson said was critical to his shop's presence at shows. The role TPWD has with bringing kids into the sport, providing information and much more on the ground – are appreciated by Johnson and many others who participate in these events.
While we missed a few, and saw plenty, the big show always looms – the Houston Fishing Show March 1-5, 2023. It is heavy on conventional fishing, but the fly fishing presence seems to be growing every year. And you may as well call it a "Texas Skiff Show" as well – there are that many boat builders on the floor of the George R. Brown Convention Center in Downtown Houston, Texas.
Thanks as always for reading, and of course a thanks goes out to all the vendors we talked to and were hospitable to us last Saturday! As the feet get firmer on South Padre Island sand, you can expect a big ramp-up of both the Texas Fly Fishing YouTube Channel and a true bleed of information over to the Los Pescadores YouTube Channel as well. Your best bet is to subscribe to both, and HOLD ON TIGHT!
Category: Events, Fly Shops, Guadalupe River, On The Road, Store Merchandise, Texas Fly Fishing Club