NOTE — It's too cool here to have warm water action, and it's too warm for any cold water action resembling anything like I experienced in Northern Arkansas, AND that's why I appreciate the reports from the Blue Ribbon Fly Shop in Mountain Home, Arkansas.
This is the first report of length and depth this year, so sit back and enjoy the read, and of course the photographs of beautiful brown trout from Northern Arkansas, courtesy Blue Ribbon Fly Shop in Mountain Home, Arkansas.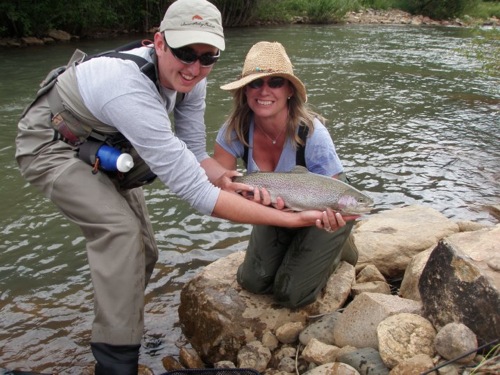 Guide Paul Hoelscher of the Blue Ribbon Fly Shop.
John Berry's Fishing Report- February 16, 2010
BLUE RIBBON FISHING REPORT
BY JOHN BERRY
We have had a mild winter here in the Twin Lakes area and the fishing has been good. The lakes are near power pool and we can expect wadable water in the near future. The Corps of Engineers has aggressively drawn the lakes down after each significant rain we have received this winter and we are prepared to enter spring with low water.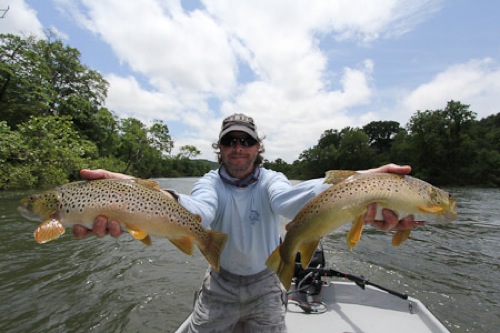 Kristopher Boulding – Blue Ribbon Fly Shop Guide.
The most significant event we have had recently was the opening of the Catch and Release section below Bull Shoals Dam. This section was closed from November 1, 2011 through January 31, 2012 to protect the brown trout spawn there. The big browns do not feed during that time nor are they fished over. When the section opened on February 1, 2012 the action was heavy and many nice browns have been caught. The action should continue for some time until the browns begin moving downstream. The best technique during this time is to fish an egg pattern below a strike indicator (pink and orange are the most effective colors). Be sure and use plenty of weight to get your fly down.
While it has not been cold enough to produce a full blown shad kill, there have been some shad coming through both Bull Shoals and Norfork Dams. Watch out for gull activity below the powerhouse to indicate when the shad are coming through. The best technique is to fish white marabou jigs below an indicator but sometimes a white floating shad pattern can trigger top water action. These are big bites and they can attract some large hungry trout.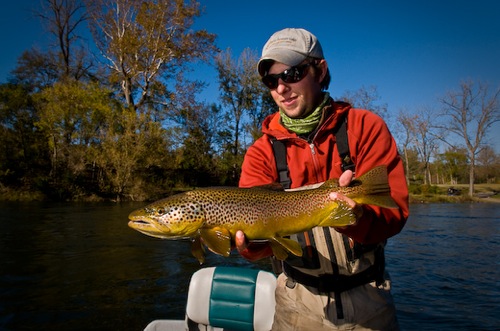 Forrest Smith – Blue Ribbon Fly Shop Guide.
As the browns begin moving the best technique for large fish is to bang the bank with large streamers. This will be most effective with a water release of 10,000 CFS or larger. Use a heavy sink tip (250 grain or larger). This will require at least an eight weight rod. The best flies for this action are zoo cougars and sex dungeons. The best colors are white, yellow or brown.
You can expect more wadable water on the Norfork. It is a small river and it can get crowded quickly. Arrive early to claim the best spots or better yet fish during the week. The hot flies are sowbugs, zebra midges (think small), soft hackles and Dan's turkey tail emerger. On high water, fish San Juan worms (hot pink or cerise) and egg patterns (pink and orange) under an indicator.
If you have children less than sixteen years of age, take them to Dry Run Creek adjacent to the Norfork National Fish Hatchery. It is all Catch and Release and the fish are huge. There is precious little room to cast so the best technique is to high stick nymphs. The best flies are sowbugs and San Juan worms (worm brown).
If they are running water on the White and Norfork, consider fishing the Spring River. There is no generation on it. The best flies are olive woolly buggers, pheasant tail nymphs and Y2Ks. There have been some big rainbows caught there recently. The hot spot has been the Dam Three Access.
Always check conditions before you leave home and practice water safety.
Category: Arkansas Report, Fishing Reports, Fly Shops, Fly Tying, Guides, Reader Contribution