North Texas is a heck of a place when it comes to weather, and today was no exception.
I was driving a friend I know down to the Sixth Floor Museum in Downtown Dallas yesterday, and we were about three-fourths of the way there when we were slowed to a blinding crawl, and finally as hail was pelting the car, a near stop.
This isn't even a reach, there's no fly fishing in this story. Instead it's a glimpse into history, the darkest history of Dallas, Texas – November 22, 1963.
I've known Jerry for about ten years, and he comes from a time when I ate, slept, drank and lived (and sold a lot of) photography. Stories are something Jerry has in great supply, and one is about that day in Dallas.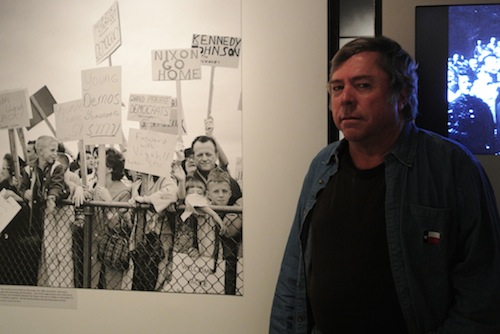 Jerry is on the bottom right of this photograph in the museum, and of course on right today.
Jerry was a twelve-year-old at the time, and he is one of the last few thousand people who saw John F. Kennedy alive that day. Jerry was at Love Field when the planes with the JFK entourage took the quick hop from Dallas to Fort Worth that day. His parents, realizing his admiration for JFK, took him out of school and with the help of a pilot friend, was able to get up against the fence, and eventually watch JFK's motorcade pass only a few feet away from the fence, close enough for a "high five." Of course, "high fives" weren't even invented yet.
I had contacted the Museum about recording Jerry's recollections, and last year Jerry was invited to tell his oral story, on video, to add to the oral history archives at the School Book Museum, and with the extremely thorough and thoughtful questioning, an entire hour of history was captured in the interview.
Now, at sixty-years-old and almost fifty years later, the event still evoked emotional moments, and one of those youths of that day is still left to wonder out loud, "What would have happened if he had lived?"
After he finished the interview, we took a tour of the museum, and were surprised to see that it was packed on a Wednesday. We were surprised to find out that the School Book Depository is the number two attraction in Texas, only surpassed by The Alamo, in San Antonio.
It's difficult not to wonder how things would have been different had John F. Kennedy lived when I dropped Jerry off at his car. Jerry's car has been his home for nearly two years now.
NOTE – There were many languages overheard in the museum today, and I was pleasantly surprised at the thoroughness and detail, both historical and to my own taste macabre. There are white "X's" painted on the street below, where each bullet hit its mark, and we could see it all so clearly as the clouds broke and the sun came out.
Category: Culture on the Skids, Life Observed