Fishing Report Texas Fly Fishers Festivus Now
Today's Texas Fly Fishing Report will be in writing instead of appearing on YouTube. I don't see any reason to beat the same drum with only slightly different conditions than we had in the past two to three weeks.
CONDITIONS
Weather. Weather. Weather. About the time I shout "Spring Has Sprung!" … old man winter tries to exhale one last time, and blow away our optimism over the weather we have been experiencing (on-and-off) these last few weeks. Locally, there's apparently a battle royale brewing – between advancing cold air and the warm southern breezes (yeah I know, 40-mph isn't exactly a breeze) – and tonight or tomorrow it will all come to a smackdown in this region. Latest word is the warm air is mounting a firm resistance.
LOCAL
I hit Ray Roberts yesterday, and the details of that are available to subscribers on my "Private" list of Texas Fly Caster YouTube watchers. Hint to you subscribers – I am sending these videos to you to view, so please do. Otherwise, we need to make room (in the 200 person limit) for others. Not only will you paid subscribers get details on carp on Ray Roberts right now, but there's a HIGHLY detailed map for kayak fishing a local park pond in the City of Denton, Texas. CONTACT ME to subscribe. You'll be glad you did!
FESTIVUS
We have another of those dreadfully named fly fishing "Festivals" this weekend. Have you noticed; that word has gotten under my skin? I am renaming all fly fishing festivals (which they are not) to "Festivus" in honor of George's Dad.
THIS WEEKEND's FESTIVUS is in Athens, Texas, and is either going to be a boom or a bust – based on which weather pattern wins the day. In my humble opinion, most if not all of these North Texas tournaments occur way too early in the year. School is still in session, and prime weather, prime fly fishing is still weeks and sometimes months away.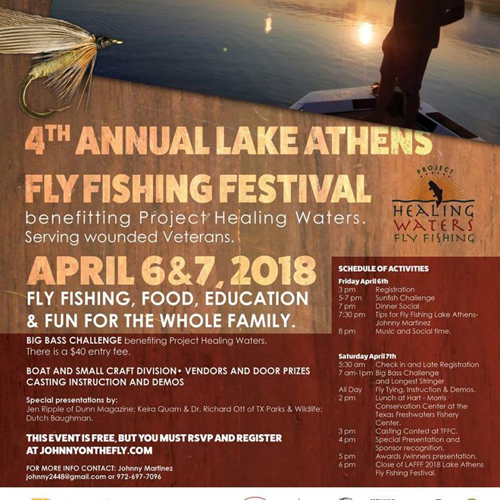 Category: Complimentary Reading, Fishing Reports, Tournaments and Contests