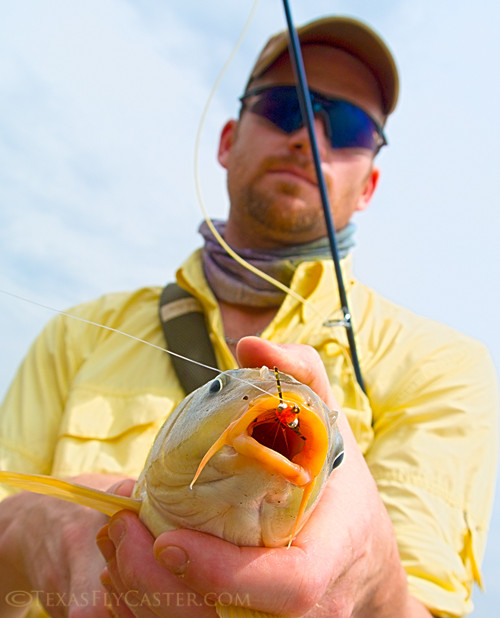 Clint and his carp caught late Sunday morning at the church of carp.
"I want to love you, but I get so blown away …," – Neil Young "Like a Hurricane"
As much as I would love to guide for carp and bass every day on the Ray Roberts flats, there are so many factors that go into a day on the water here in North Texas, it's a wonder we ever get to fish at all. It reminds me of baseball stats; It was the most wind, without sun, at this lake level, in the month of May, since 19XX, and on that day the wind was coming from the north at only 25. I kid you not.
No matter the fact the water really is over the top and into the shoreline vegetation, and the wind has been howling from the south already, and no matter the sun hasn't been out at midday for days – Clint Keating and I did catch some small bass and carp last Sunday on Ray Roberts.
Clint has a new Diablo Adios, and we decided to try stalking from boats, but anything above water level was subject to becoming an Americas Cup twelve meter yacht. SO, we ducked into a cove and set out on foot to stalk carp. Clint has really taken to his Diablo, and the standup capability it offers. Once the wind dies down, you can bet we will be out again to cast from the decks.
Although the carp are in, actively feeding and eating flies, stalking is tough in the weeds, cloudy water and wind. Clint, who I met on the Conejos River a few years back, is a very experienced fly fisher who had never stalked carp on the flats. It didn't take him long to make the connection between fishing and hunting – which is what stalking carp on the flats really is all about.
We didn't have to go too far once we got into the cove, although walking has been hindered by the high water levels (flooding shorelines). With high lake levels as they are, the benefits of getting around by kayak are numerous. I do have kayaks as a part of my guiding services – an option (fill out contact form to get all that information) that can get you to some pristine locations that are untouched by fly fishers, and certainly not walked by carp stalkers with fly rods.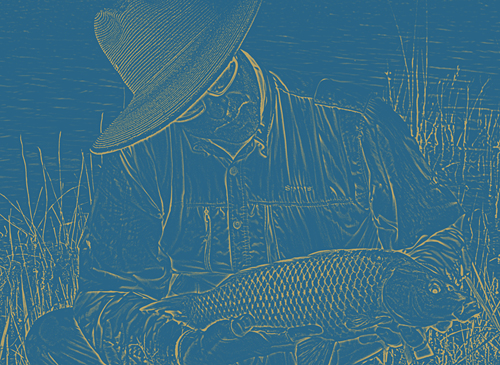 Carp and me.
I've been lightening up on my carp rod choice right now, and although I am having some frustration with the fly line currently on my Lamson reel, I thoroughly enjoyed my six weight Sage Z-Axis, and bending it down to the handle. I am still waiting for my Ross FlyStik tournament length 6 weight to arrive, and think that will be the rod for the future. As usual, I hand tie my fluorocarbon leaders as I need them – two sections and (+/-) nine feet in length. I am tempted to get with Robin Rhyne and see if I can get him to twist me up some of his leaders.
I didn't have to go through the entire world of carp flies in my box to find winners, and they are available in my Fly Shop, and at Tailwaters Fly Fishing Company in Dallas. Register / log in, and ask via comments – and I WILL tell exactly what flies are working right now.
Category: Fishing Reports, Fly Fishing For Carp, North Texas