fly fishing father's day gifts #flyfishing #fathersday #flyfishtexas
As long as we kept your Dad's gift ideas local, and have covered the outside with sun protection – See Fly Fishing Father's Day Part 2 – and we have pretty much rotted his insides with great bear and cigars, why not wash it all down with good, clean water?
One huge kick I have been on for a number of years is going to, what some have said are extremes to drink water from reusable bottles / canteens like the Nalgene brand bottles. Well, it turns out old Nalgenes are loaded with BPHs apparently, and now it turns out the new ones are constructed with some other chemical that (those who are sensitive to these kinds of things) is apparently worse than BPH!
What's Dad to do? Dump the plastic bottles and canteens altogether, and wrap your lips, your mind too, around glass and stainless steel. Glass is simple enough, and the drawbacks are obvious – weight and breakage. Stainless also has something of a downside too – virtually all stainless water bottles now come from China! I don't know about you, but I find that extremely frustrating and somewhat alarming. At least when Dad drinks beer and smokes cigars, he knows exactly what the score is. Not knowing what, if anything, is coming from Dad's water bottles … what a bad way to go.
Those manufacturers who are on the stainless steel bandwagon know they have the Chinese dragon by the tail. And if you visit the major manufacturer's products / websites, they go to painstaking lengths to do two things respectively: 1) They do just about everything possible to hide the fact their bottles come from China (on the actual bottles), and 2) They address concerns and questions about Communist Chinese stainless steel straight on – promptly, thoroughly and scientifically. So all I can do is trust their claims that they subject their stainless to rigorous testing for composition and leaching.
Both sidebars of www.texasflycaster.com are full of these new bottle options, and all of them are now in "Texas Summer Testing Phase" by me, but just in case this gets to you after the ads have changed, here are the bottles I am now testing:
Let's just say you are good with your water supply, but you really want an original coffee mug for Dad's Day. Have a look at the mugs for sale at www.loukregel.com. I drink from Lou's mugs almost every day, and admire her unique design sensibilities in painting and modern graphic design.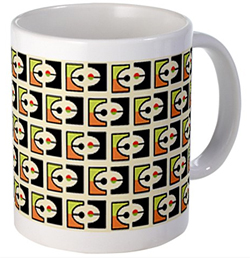 I could go on with more Father's Day ideas, but time is now short and you need to get shopping! Thanks for reading, and remember that any of these gift ideas can be reached through this site and clicking on the images for these great fly fishing Father's Day gifts.
Category: Culture on the Skids, Equipment, Texas Water Conservation, TIPS