east texas fly fishing texas carp guide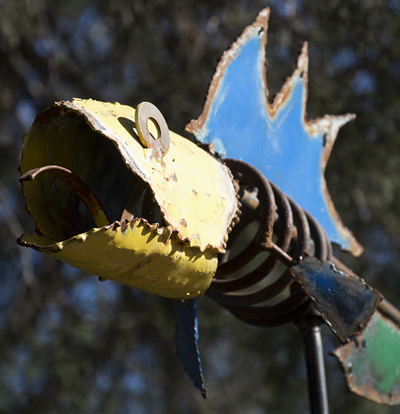 Here's an artist that's close to you fly fishermen in East Texas. It's the Flying Fish Gallery in Ben Wheeler, Texas. Ben Wheeler, alone, is well worth the trip, and I assume you guys south and east of Dallas-Fort Worth are about thawed out, and the ice and sleet will all be gone by this afternoon.

The most recent piece I have from the Flying Fish is a wind vein we picked up last year at the Edom Art Festival. I also have a copper spinning fish from awhile back, you know the kind that spins in the wind?
Here is Flying Fish Google+ — Flying Fish Ben Wheeler Texas
Here is the Flying Fish Facebook page — Flying Fish Facebook
And if you do travel all that way, be sure to time it to eat at the restaurant across the street – The Forge.
Here's the Ben Wheeler website – Ben Wheeler Texas
COMING SOON
Starting in February, I will be offering up pre booking trips for carp by flats skiff. You'll be able to get a better deal if you book, and do your deposit in February, instead of waiting to see if you'll be able to walk and wade solo on spots like Lake Ray Roberts. You won't. Those spots are long gone, high and dry. Now, the only way to reach carp, bass, gaspergou and buffalo – in volume, and with consistency – will be by boat. Unless God wills, and the creeks do rise, there's almost no way North Texas lakes will be productive on foot. Feel free to add yourself to the newsletter list (look to the left column) for a pre-sale sale super secret,insider only, spot on the skiff. You'll love this unique opportunity.
MEANWHILE WORK GOES ON
Those of you interested in a website of your own can check out the one I took live last night for friends who just happen to be Airstream Trailer repair experts here in North Texas. Have a look at A&P Vintage Trailer Works, and if you have a trailer, new or old, these guys are the best. Just about all of Ann & Paul's work is vintage Airstreams, but they also do other vintage trailers and are factory authorized for Airstream repairs here in Texas. If you are a regular here, you'll know that is where we have our Airstream, and we will be there in Cottondale, TX, working on it this weekend. If you need a road trip, check A&P out.
Meanwhile … somebody please turn the heat back on!
Category: Adventure, Culture on the Skids, Fly Fishing For Carp