It was a long weekend. That's what happens when the gremlins and ghosts get into your machines and take what should have been a normal everyday "Texas Fly Fishing Report," and turn the recording into a pile of useless 1's and zeros. It just happens that way every so often.
Even the second recording has its problems, but this is your Texas Fly Fishing Report based on this last weekend, and including a look back at what's been going on in big picture form. Sometimes I wonder why bother to record epic fails, but you'll see how they fit in with this video – like the reporter who draws the short straw, and has to stand in the face of a hurricane and report the obvious. There I am short straw and all, facing down Rockport gale force winds, reporting on the new Chittum tiller skiff and reporting on the new invention that will eventually sweep the Texas Gulf Coast shallow scene – the Zephyr Cove Customs shallow water pickup. Those last two are epic successes!
Fire & Rain
While the smoke was pretty thick when I was training on my drone during a break in the never ending wind Friday, this morning the skies are washed clean by a 24-percent chance of rain come true. And we have a couple more days of rain before these April temperatures fast-forward to July where we left off two days ago. Texas reminds me of the Lennon song, "Nobody Told Me," strange days indeed.
The rains may be from heaven, but the smoke comes from down the road. Apparently Abilene, Texas, is hosting a big burn, the rhyming "Mesquite Heat" fire as it has been named, and that smoke was thick here last week. I think California is better at naming their fires. I don't know what the status is this morning, but several homes burned and at least 10-thousand acres felt the heat.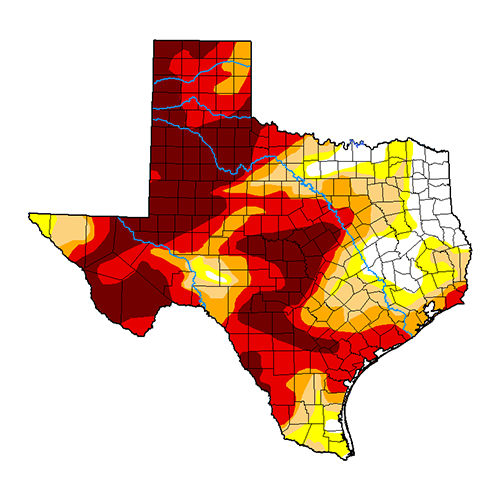 The Texas drought map will be changing face this week, that much is certain. Right now, according to the US Drought Monitor statistics, the "Estimated Population in Drought Areas (is): 16,665,729" … that used to be everyone, but Texas continues to grow unchecked.
Category: Body-Mind-Soul, Equipment, Fishing Reports, Flats Boats, Fly Fishing For Carp, Reviews, Science and Environmental