LET'S GET AN EARLY START ON CYBER MONDAY!
Interesting how the institution of Black Friday is beginning to change, isn't it? Stores have figured out the "black" in Black Friday can mean black eyes more than black ink, and the residual effects are just not worth the cost. Now the brick-and-mortar stores slink quietly away from the retail D-Day, toward a new era of spreading their wealth over many days, and leaving the hangover of destruction behind.
This year, in fly fishing terms, about all I can do is reminisce about my black Fridays past – as this one approaches. It has been a good run (key "black Friday" into the search box at right), but the harmonic convergence of health and weather appear to have squashed my Black Friday Fly Fishing plans this year.
Your shopping can start in extreme local focus at Pops Fly Shop, where most products are made by PoPs himself. If you do go to PoPs, don't let the ordering gateways bug you! Just complete your order, and if you have problems contact PoP. I know him very well, and he will make sure your order is completed — start – to – finish!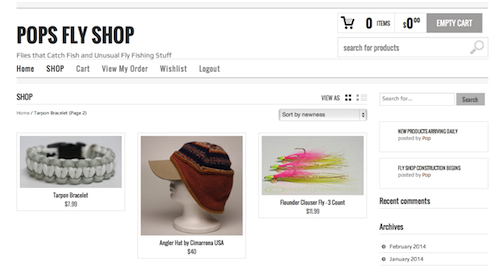 You can also look left – for my AMAZON picks from the millions of products available there. Click on those to be transported to the largest (USA based) online retailer – the safe and secure Amazon you've come to know and trust.
If you still need the sweet smell of neoprene and fresh Gore-Tex, head on over to the only mom-and-pop shop in North Texas – Tailwaters in Uptown Downtown Dallas, Texas. This shop has even taken a share of the Houston fly fishing market without a location in Houston. HINT: You know I'd love to run the Houston store don't you!!!! Imagine the guides having a place like Tailwaters Houston working in their behalf … I know we're all excited about Tailwaters announcement of their move over to an area I am very familiar with – near the Dallas Design District, and the best camera shop in Texas – Competitive Cameras (Shopped at Competitive for nearly 30 years now).
Whatever you're looking for, or if you have a spouse that's looking – be sure to have them contact me if you can't find it. I can kick the little internet devils into overdrive and find it for you! And don't forget, the Mega Christmas list is still to come!
Category: Apparel, Culture on the Skids, Equipment, Fly Lines, Fly Reel, Fly Rods, Fly Shops