http://texasflycaster.com/wp-content/uploads/2010/09/Rio-Grande-Reservoir-1.mp4
South Fork Colorado, at the intersection of 149 and 160, is one of those places where you can tell the world has passed by many, many times. The edges of the roads are dusty and a little rain, and a little sun can make even the paved roads a real dustup. Harley Davidsons do the best they can to look tough, and disrupt the audio tranquility. For all the feigned badness, it's a world away from Robert Johnson's crossroads.
There's no shortage of fish signs in South Fork, and marauding Texans would think a natural place to stop would be the Wolf Creek Anglers' log cabin at 1 Brown's Road (N37 40.409 W106 37.187), just across the tracks barely north of 160. If you don't see the cabin, just look for drift boats, rafts and other equally sexy and exotic watercraft parked out front. Other than the fact they are not very interested in selling you a fishing license for anything other than cash, Wolf Creek Anglers is a very good and informative stop. Sure, it's full tourist price, but … you're a TOURIST!
The young man working there was plenty of help, and was willing to provide enough information to get me a couple days down the road. "If you're going to Creede, you'll want to check out the Rio Grande Reservoir. Don't bother with the first two reservoirs. The south end (of the Rio Grande) is OK, but the north end can be pretty good," he said.
We digressed to lake cutthroat, and another seasoned local kicked in at the counter, "Crater Lake. You can get there from South Fork, but it's rough," driving a fish bone right through my heart. This is when I put Crater Lake away for another day that includes the FJ60. The conversation rambled, no need to hurry, with the counter-leaning, fair skinned, but well tanned customer I'll call mahafishie … "There's this lake where the trout are huge, but I can't tell you where it is," he said, enticing anyone who would listen into a guessing game. It was useless for a Texan to guess around the map with anyone this local. Leslie tried to guess, but it was pointless.
We had zero success getting a license for Leslie at Wolf Creek Anglers, so we hit the dusty road back toward 149. I had to hold something (not getting the license) against the young guy working there, since he was a good looking chap, weathered by the the life that much closer to heaven, and doing something only slightly short of God's work – guiding schmoes like myself to the promised waters. He did say the Rainbow Grocery could do the license, so we stopped there and went inside.
The Rainbow Grocery, the look and the name do plenty to lower expectations. Plenty. We went inside, and went left to fly supply mecca. We are talking unbelievable inventory in every category including fly tying. There were more fly tying materials than I had ever, EVER seen in one place. Generally, if one is traveling, it may not be the time to buy feathers and fur. Drawer after drawer of materials filled to the top … would have to wait for another day. I struggled to break the trance, regain my equilibrium, and quickly headed for the door. These days, all the talk is about overdosing on Facebook, the internet, but little attention is given to those of us who overdose on fly shops. NOTE – Stop at the Rainbow Grocery no matter what. This is one grocery store where wives will wait in the car.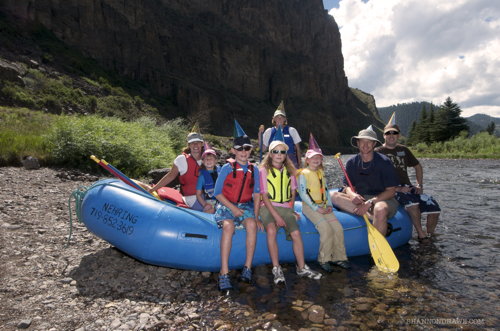 How come I never got one of these?
We headed up 149 along the Rio Grande River toward Creede. I was a passenger, so I could look at the water, and enjoy the scenery. The river was wide, and spotted with fly fishers here and there. The water was cold and clear. On a curve, we spotted a strange (for Texans) site, parents and kids in birthday hats, holding paddles, getting ready to load up on a big blue raft for a birthday float down the Rio Grande. We had to stop. We traded pleasantries and I shot a couple of images before they pushed off. It was surreal. How many six-year-olds do you know who have birthday parties like this? Maybe every Colorado kid has a floating birthday party, on a perfect day, on a perfect river, but this Texan felt a little … short changed. They loaded up and paddled off happy ever after.
In Creede, we checked in to Bruce's Snowshoe Lodge. The laundry room was the final piece of a completely restored sense of (no) smell. Bruce's has all the look of a 1960's motor hotel, but was a great place to continue the comfort phase of the Colorado expedition.
We were in Creede early enough to get squared away, and head for the Rio Grande Reservoir. We headed out 149 and turned off at FS Road 520, a road that is long and typical of the challenges you would face in the Colorado outback. Potholes, unbreakable rock formations in the middle, all form narrow canyon ribbons with sheer downsides loosely disguised as a road.
We had no concept of distances, and time speeds up as we slowed to a crawl on some parts of the road to the reservoir. It came as no surprise that we were about to get our afternoon fill of the monsoons again. We hadn't seen much rain in Texas around this time, but this wasn't Texas, and I was wearing a little thin on the half-days every single day.
From high above the the Rio Grande Reservoir we could see fishermen down below fishing the river coming into the north side of the reservoir. How they got there was a mystery. We drove past three Ford trucks with Texas license plates, did a ten point turn around, and went back to where the trucks were parked. They had to be parked as close to the trail as possible – if they're Texans.
Sure enough, they parked, perhaps strategically, to prevent easy sighting of the trail, so here are the GPS coordinates – N37 44.691 W107 19.595.
We put on our rain gear and made our way down the trail. The rain was coming on steady, and thunder rumbled from miles distant. We wouldn't be at a high point, but talk about exposed … all I could do is take solace in the odds with about four other guys holding lightning rods in the same area. One-in-four were odds I would take after that drive.
I was immediately encouraged by a quick strike drifting a bunny fly in the mud brewed water. The silver flash was unmistakeable rainbow, but the clarity was turning all wrong, and quick. Another strike was enough to tell me I was in a good place, but this day was going to break the string, no fish today.
My determination to avoid a shutout was soon dampened by the relentless rain, and tomorrow's plan was set in stone. I wasn't going to let this spot get away without a fair fight. We climbed out of the river valley, and drove back with me measuring time and distance the whole way. How else could I plan to bring you guys what comes next?
Category: Colorado Report, Culture on the Skids, Eating and Drinking, Fish Podcasting, Fishing Reports, GPS, On The Road