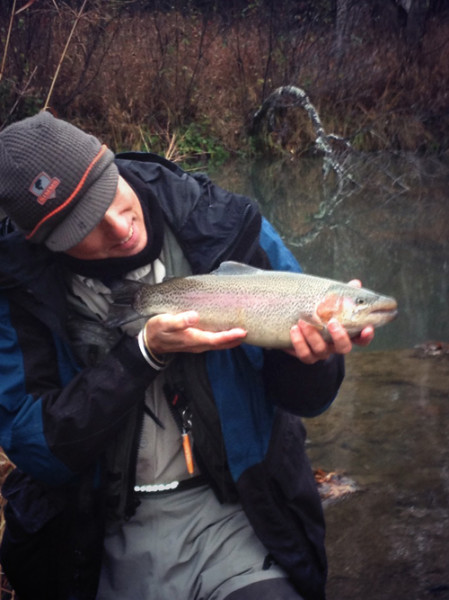 For those of you who haven't followed the years of fly fishing the Blue River in Southern Oklahoma, click on this link – Blue River Oklahoma Fly Fishing – to see a list of (still free for another seven weeks) stories about the subject.
For those of you interested in the details about the Blue River 2014-2015 –
BLUE RIVER OKLAHOMA FLY FISHING
It looks like word is getting out that the Blue River was stocked [ppw id="84441729″ description="Blue River Trout Season ON" price=".10″]
this past Wednesday! That means there is at least a pattern to the stocking schedule. If you have not fly fished the Blue River, it is divided into two distinct areas, one I call the catch-and-kill because that's what people do, and the catch-and-release area where that rule is loosely enforced, but we do come across Oklahoma officials on a regular basis.
There's no pro guiding in the catch-and-release area, so if someone wants to offer a free ride, I am more than happy to go along – as the schedule allows!
In years past, the Blue on Black adventure – the Black Friday after Thanksgiving – has typically been a very very successful date for catching plenty of rainbow trout up in the C-n-R area. I don' t ever remember a bad Black day there as a matter of fact.
These fish are new to the habitat, and the good weather means they are being slaughtered wholesale at the catch-and-kill area right now. I have been reading up in preparation for a book I will begin writing on Beaver's Bend, Oklahoma, and something I read said, "the stocked trout are drugged and not fed before being transported" to their new AND TEMPORARY home. I never knew that, but it makes perfect sense, and explains how they almost literally jump into the killer's Home Depot buckets.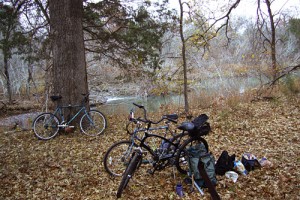 KNOW BEFORE YOU GO!
– The Blue River is not a year around trout habitat. It is stocked when it gets cold enough, and the C-n-R area is opened up to take the puts (kill) February 29.
– There are some unpredictable wading conditions. Take a wading staff or a friend.
– If it rains, it's pretty much off. This river clouds up very easily.
– Fish common flies.
– Brushy conditions call for short fly rods.
– Give special preference to BAD weather! It's a better bite, and these fish become wary as the water is clear, slow and shallow – making it a raptor's paradise.
– Report any poaching you see. Use your phone and take photographs of anything you feel safe to photograph – person, license plates, heck get them to pose with the fish!
– If you want to fish more, catch bigger fish, and be isolated: Consider bicycling into the C-n-R area. I have done it riding over frozen water puddles in the road. Cold is good. Mountain bikes are great.
– There's some kind of invasive otter wreaking havoc up there, and no one wants you to know that. Information is hard to find, as they promote the "Chamber of Commerce" version of things heavily in that area.
– E mail me if you have more questions.
[/ppw]
Category: Adventure, Fishing Reports, Fly Fishing for Trout, Oklahoma Report, Paid Reading Content