saltwater trout catching specks on a fly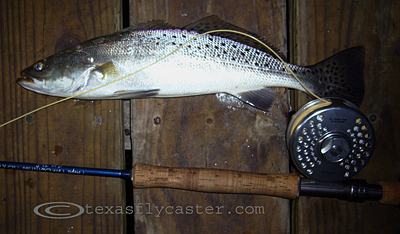 Well, it's good to be back from a short jaunt to South Texas and the Arroyo Colorado. I managed to sneak off from family responsibilities for about a 12 hour long fish-a-thon at the the Laguna Atascosa Wildlife refuge on the Arroyo Colorado.
Two things you can bank on when in extreme South Texas: 1) wind and 2) heat. Even though it is early May, both were in abundance. I did some video while there, and let's just say videotaping one's self is innocuous at best, and I can imagine it will all come off as a "look at me" event. But when there's no one else to feature (as in the famous Hybrid vid), you "gotta' dance with the one that brung ya'" – even if the one that "brung ya'" is you! I'm still trying to decide if the whole effort of a DIY alone is worth it. Probably not. Maybe. Barely.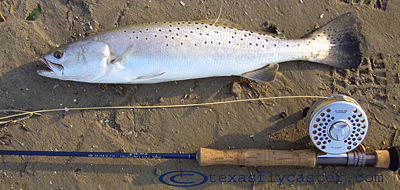 Catching Specks was a completely different experience from the last time we crossed paths, some thirty years ago. Back then, it was shrimp, under the lights at night, and catch all you can (12″ or greater). Since then conservation, severe weather and other natural phenomenon have brought the Speckled Trout population down and up again. There were plenty of hungry fishermen standing near me (closer and closer) on the dock while fishing that night, so they did get a few keepers to take from my catch. I had a feeling they would have thrown me back if I had thrown any of the keepers they wanted back in the Arroyo. No joke.
I hope that the video comes off well and sometime this week. In the meantime, enjoy a few images of Specks and a six foot rattlesnake that crossed the path in front of me. The snake swam ashore about 20 yards away, and I didn't get much closer than that. Besides, I was on his turf. And if you find yourself in the Rio Grande Valley, take nothing for granted – such as WIFI or even internet access!
Category: Fishing Reports, Gulf Coast Report