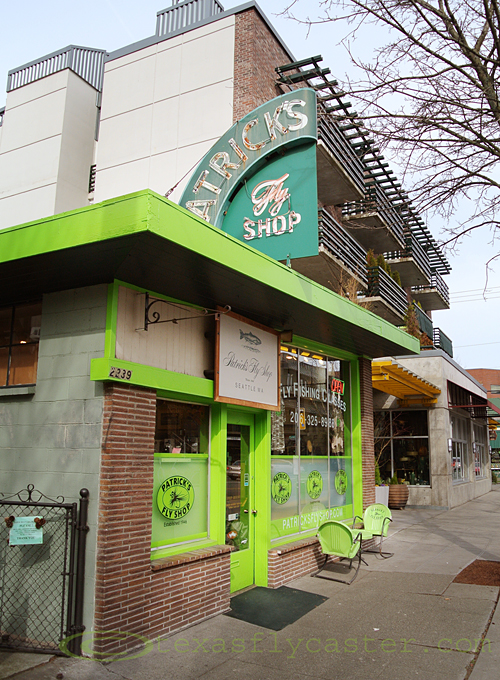 On the streets of Seattle, Washington – Patrick's Fly Shop, the oldest fly shop on the west coast.
It has been an interesting few days.
It started with a text message, "want to go to Washington?" last Wednesday, to which I responded "Washington on the Brazos?"
It turns out my photography services were needed for a job in Seattle, Washington, for a local company with a proving grounds in the town of Mount Vernon. PACCAR makes Peterbilt trucks – you know the tractors that pull the trailers, and they are manufactured in Denton, Texas.
The text message exchange came at about 10-am, and by 6-pm that same day, we were on a jet to Seattle. The only way I could possibly relate this to fly fishing, in the limited time we were there, was to visit a fly shop.

No shortage of rod building or fly tying materials at Patrick's Fly Shop in Seattle.
Not only did we visit Patrick's Fly Shop in Seattle, we visited for awhile (while waiting for another crew member to arrive at the airport), and of course I had to get my hands on some fly tying materials I had not seen before.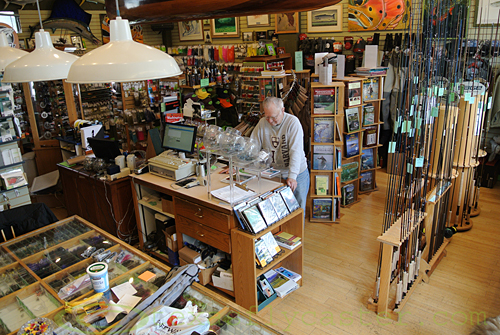 Inside Patrick's Fly Shop, Seattle, Washington.
Once work wrapped, we went out for fantastic seafood at Elliot's Oyster House on Pier 56, where oysters are served like fine wine. There are several varieties, and you can even get a sampler. That's what we did, and I never knew what good oysters were until these slippery guys. Unbelievable, until they were topped by a slab of sockeye salmon cooked on an alder plank. It was so good I am looking to find and plant an alder tree!
It was a long flight back, leaving Seattle in the rain, and arriving at DFW Airport in the rain seemed a little ironic. However, we are being blessed in North Texas with a wet early spring, and if it keeps going this way we could be in for some spectacular fishing as spring starts to get wound up.
OTHER NEWS
Be sure to check out Lone Star Outdoor News this week. I should have a story in it on the Lake Fork carp tournament held a little over a week ago. Both waterbody records for Lake fork – carp and buffalo smallmouth, fell during the tournament, and apparently Austin Anderson set an IGFA world record for his age with a fifty pound buffalo.
The warm rainwater flowing off shorelines into lakes will set up a situation where the shallows are prematurely warm, and if the fish I caught Sunday is a good indicator, we are going to be in for a great, and long spring of catching bass on the flats. I am already seeing carp, and signs of carp as well, but they are green and spooky. Bass are still cold, slow and lethargic. I had to guess the size of the one I caught Sunday, but it was at least 3.5-pounds, and I really want to say 4. It was a beautiful specimen and had a very vividly colored (like camouflage) anal fin and huge belly.
Category: Culture on the Skids, Fly Shops