In The Grips of Normal
Are we happy about this cold, or what? This is what I remember North Texas weather to be; a box of chocolates that can sometimes freeze as hard as South Texas dirt clods. Weather that inspires our memories to recall … remember when Lewisville Lake froze almost completely over? Yes, that is true, and it was only a few years ago, okay, a few decades ago, but I was there and photographing some guy – truck parked near the ice edge, and long surf rods set out for who knows what, an iceberg, an orca? Hardcore …
I missed both of the local fly club meetings this week (at least I think they were this week), Dallas Fly Fishers and Fort Worth Fly Fishers both meet at the first of every month, but with this weather and a lot of work on a new website for a client – I just didn't make it out. Maybe a club member-reader will give us the minutes of their meetings?
I guess we should ask if there are even any fly fishing club members who bother to read the Texas Fly Caster news at all? It has taken a lot of years, of blowing in the wind, to realize that there are a lot of folks who can talk a good game around here, but when it comes to playing the game? Let's just say the number of willing dwindles, by the numbers, to something like two-in-a-hundred. I get it though. Clubs remain a good source for beginners looking to gain information quickly (and get out), and for DFW here are the links to the two locals – Fort Worth Fly Fishers & Dallas Fly Fishers. Off the top, you have to admit the Dallas Fly Fishers website really sucks, while Fort Worth's certainly is more active and current. But, these strange days I really have to ask: Who Cares about websites?
Texas Drought Map
Here is the 12/28/17 Texas Drought Map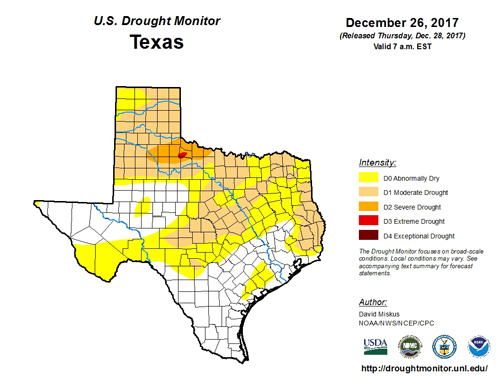 As you can see, we are right back into a drought for North Texas, and much of Texas as a matter of fact. The story still to be told is; will spring rains come and bring us another epic season of warm-water fly fishing like we have had the past two years?
We certainly are not going to waste any spring action times this year. All things being equal, we hit five new lakes WAY TOO LATE in 2017, and I won't be making that mistake again. We are going to throw the long bomb in 2018, during primetime … so that we have a fair shot in exposing these lakes in their prime. Those five are on this year's list (I did learn a lot about their structure and habitat), and the list will expand in interesting and helpful ways – for readers, and watchers of the Texas Fly Caster YouTube Channel.
Category: Culture on the Skids, Life Observed, Texas Fly Fishing Club