texas water conservation drought #texasdrought ray roberts lake fly fishing #flyfishing
LAKE RAY ROBERTS TEXAS VIDEO REPORT FOR WATER WEDNESDAY

Someday, if we keep doing this long enough, the old guys say there'll be some good news about the Texas drought. The words that come to mind right now? How about "biblical," or "epic" for starters. Yes, I know there have been drier times according to the charts and graphs, but we are in the midst of a double whammy – drought and zebra mussels. There's not much to enjoy about this visual report, but maybe we will be able to look back and laugh at the presentation at a place far far underwater.
My guru always says dealing with changing conditions, means adjusting, modifying techniques, coming up with new tactics, and that's all quite true. Currently, the conditions could be considered a near perfect storm. Time will tell. I certainly wish I were dependent on a Texas river, or the Gulf Coast for my fly fishing fix. Many Texas rivers are guaranteed to flow, and the Gulf of Mexico? She can be fickle, but damn she's resilient.(SEE Airstream Trailer)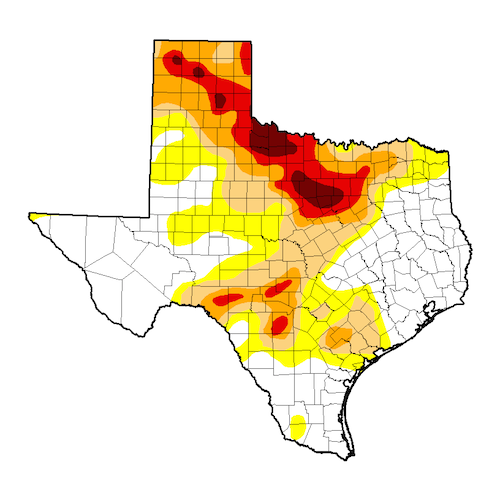 The current drought map for Texas. "Extreme" and "Exceptional" are the two colors that cover our North Central Texas area. I'm pretty sure somebody ruled out "Biblical" in favor of "Exceptional" due to political sensibilities.
Category: Complimentary Reading, Hot Spot, Life Observed, Science and Environmental