While we await the coming of spring buds here at the house, impatiently watching for growth where it looks like death warmed over, while all of that is taking place, the wild and tame Redbud trees are flowering even more vividly due to the death that surrounds them. Redbuds are our green light telling us that the sand bass are moving NOW, and if you are one of the Soggy Bottom Boys, you know where to go — head for the creeks!
The other thing that got nipped in the bud, was apparently my Forerunner's radiator. I knew it had the scent of a leak a long time ago, but now? Apparently the leak expanded on that idea, to the point where that stimulus check will be partially eaten by auto repairs. Easy come, easy go. Once again stepping one step back.
The trickle down effect of all this is that the trip to see family in Houston, then to Sommerville is now off – because my scheduling for a vaccine shot also came through for this week – and now time gets tight for the first leg of the lakes tour. This will be a week of recalculation for sure …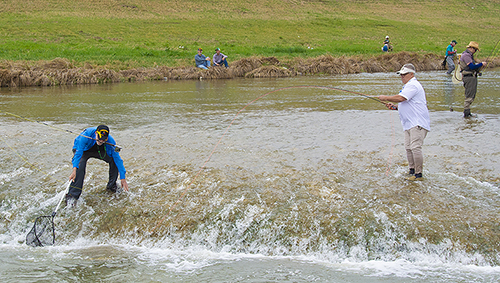 Trinity River Water District FlyFest
I checked out that event last Saturday, the 13th, and the crowd was huge, mostly unmasked and HUGE. I saw lots of never dirtied waders, and dudes galore. There's something about this event … seeing grown men in this little stretch of water, literally going in after trout to net for their partners. I actually see a lot of comedic things at this event, and if you look at it through a "fun, funny" lens, it is pretty enjoyable. The main observation was that this event brought a lot of families and young people outside and gave them a taste of fly fishing, maybe a strange taste, yet a taste they may learn to like. It was also great to see so many old friends – I mean THEY ARE OLD! Plans do get hatched at these events, and I hope the eggs crack with feathers this time.
IMBRIFEX ANNOUNCES NEW BOOK SERIES
Cut short by circumstances today, but one last thing: I received an e mail from Imbrifex about three new Texas Fly Fishing Books in their printing pipeline!
August 2, 2022
Urban Fly Fishing Dallas-Fort Worth by Greg DeMars
April 4, 2023
Fly Fishing San Antonio & the Texas Hill Country by Ben Christensen
June 6, 2023
Fly Fishing Houston & Southeastern Texas by Robert McConnell
Category: Book Reviews, Literature, Soggy Bottom Boys