A couple of months back, I managed to finagle a spot in what I would like to call an "expedition" to the Guadalupe Mountains in far West Texas. The idea of reestablishing a stream with Rio Grande Cutthroat Trout where they were once believed to occur naturally would pique your interest wouldn't it? So I threw my hat into the ring as the "Official Photographer" for the expedition, and Mick McCorcle took me up on the offer hook-line-and-sinker.
So it's off to Midland, Texas, Wednesday, where I meet a Texas Parks and Wildlife van for transportation to deliver us to Van Horn, Texas (pop. 2,152). Van Horn is the county seat for Culberson county, and the total population for that county is 2,431 spread thinly over 3,812 square miles.
Inside that area is the tallest peak in Texas – at Guadalupe Mountains National Park. At 8,749 feet above sea level, Guadalupe Peak may not be a Colorado fourteener, but all things considered, it will do just fine. The Guadalupe Mountains National Park is one of only two National Parks in Texas.
Once the group is gathered and rested Wednesday night, we will all head to the GMNP headquarters, and then on to the trail leading to McKittrick Canyon. McKittrick Creek is known to have rainbow trout (sorry folks, it's off limits to fishing). My understanding is this, in my language, will not be an Indiana Jones undertaking. We don't expect to find Onchorhyncus Clarki Virginalis dodging behind rocks to avoid detection. They are long gone as, according to anecdotal reports, the rainbow trout have long since conquered them. My understanding of this expedition is that we are there to ascertain the viability of reintroducing the Rio Grande cutthroat trout to this location. (I am hoping to witness the collection of rainbow trout in the creek for DNA testing, and perhaps location of traces of the Ghost Trout.)
Ghost Trout
In Garrett and Matlock's paper on the "Rio Grande Cutthroat Trout in Texas" they discuss the ongoing debate over whether "native cutthroats are indigenous to Texas streams" and cite historic accounts that supports the case for Rio Grande cutthroat, as well as the lack of scientific evidence to support the historic accounts.
Equally interesting is the reading from Fisheries Vol.5 No. 11 (Nov. 2010), titled "Conserving Peripheral Trout Populations: the Values and Risks of Life on the Edge," Amy L. Haak, Jack E. Williams, Helen M. Neville, Daniel C. Dauwalter and Warrent T. Colyer. I don't want to bog you down with a bunch of scientific jargon, as that would not exactly be congruent with "Fly Fishing Culture on the Skids," but hey, we do need to stretch our brains occasionally, right?
The article, in a nutshell, makes the case for extra efforts to preserve "peripheral populations on the edges of geographical ranges." All of this – range, peripheral populations and core populations are scientifically defined in the article. It's pertinent to the McKittrick ghost trout because they would, I believe as defined, fit into the peripheral population category, potentially raising McKittrick Creek's priority among efforts to reintroduce Rio Grande cutthroat trout in various United States geographic locations.
I am a photographer and fly fisher, so please feel free to correct any information that may be misinterpreted. However, with the help of all the people and organizations listed below, I bet I can bring more clarity to this story once it's all said and done.
The "expeditionary group" includes:
Gary Garrett – TPWD Biologist who wrote article on Rio Grande cutthroat and works at the Heart of the Hills Hatchery in Ingram.
Chris Wood – CEO Trout Unlimited (TU)
Jack Williams – Dr. Williams is TU's Senior Scientist and resides in Medford, OR. He worked with Chris Wood at the Bureau of Land Management, and co-authored a couple of books on watershed restoration and public lands conservation. He's a longtime colleague of Garrett through the American Fisheries Society.
Bryan Moore – Bryan resides in Bridgeport, WV, and is the TU VP of Watershed Programs and also Volunteer Operations and Communications. Bryan's responsibilities include being a liaison with all 400 chapters of TU, and TU Magazine, youth and education programs as well as restoration projects.
Mick McCorcle – Guadalupe River Trout Unlimited (GRTU) past president and current president TPWD Freshwater Fisheries Advisory Board. Mick lives in Fairview, TX, and is a member of TU's National Board of Trustees – the controlling body of TU.
Alan Bray – Dr. Bray is a scientist with his own consulting firm, and has also been an adjunct professor at Texas State in San Marcos, TX. Dr. Bray is another former president of GRTU which is Texas' only TU chapter and the largest in the US at 4,500 members. He lives in Austin, and helps GRUT manage scientific studies conducted on the Guadalupe River by Texas State students working on post graduate studies.
Jeff Schmitt – Former GRTU president and acoustical engineer by profession, and lives in the music capital of Texas – Austin. He and Alan were instrumental in working with TPWD to establish special regulations for the Guadalupe River
Shannon Drawe – Photographer / Blogger / Fly Fisher
Tim Birdsong – TPWD
Mandy Scott – TPWD
Mukhtar Farooqi – TPWD
Jim Brooks – USFWS
Fred Armstrong – NPS
This may be it for awhile, so have a great week and I will get back to you with updates as connections allow. If I disappear, look in Area 54, or aboard the Starship Enterprise. Beam me up Scotty.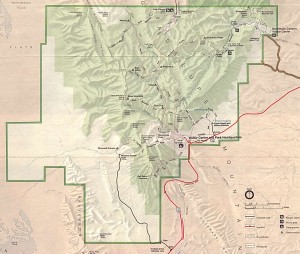 Category: Culture on the Skids, On The Road, Science and Environmental