We decided to go to the Norfork which was only a short way, even by crooked Arkansas back road standards. The White River out our front door was proving to be a puzzle with too many missing pieces, as the generators generated, even for our fly fishers who had been there before. We backed out of our location at the Rainbow Drive Campground, and headed toward Mountain Home on 412/62.
Any fly tier knows that the venerated WAPSI, Inc., maker of most things fly tying, calls Mountain Home, Arkansas, their home. As we approached Mountain Home, I resorted to the iPhone, and hit the google maps keying in "fly shop." Up pops a few pins, one of them being the Blue Ribbon Fly Shop. I spotted it from a mile away, with it's Colorado style green roof and redwood looking brown walls.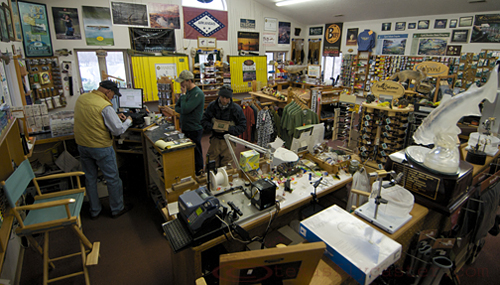 We pulled up the hill into the gravel driveway and parking lot. To the left was the fly shop and connected on the right was the Angler's Coffee Cafe. Home, sweet Mountain Home. We had arrived, little did we know, in fly tying mecca. We stepped inside to worship – boots allowed.
My heart started pounding. The walls were covered with every color of every imaginable fly tying material KNOWN TO MAN! Covered. Thread. Every color in every diameter. I was overwhelmed and cleared my mind to try and remember what I couldn't find anywhere else. It had to be here.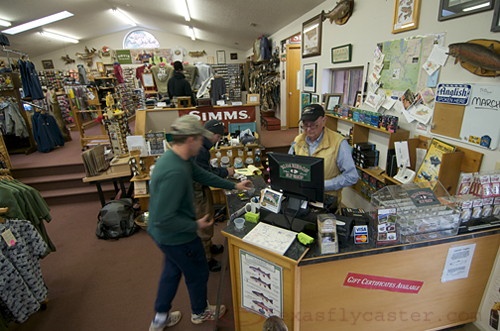 The well kept, and not too duded-up gentlemen working there were forthcoming with information, including the fact there was an event called the Sowbug Roundup, a gathering of like minds – about 100 fly tiers. For fly tying fanatics, all roads lead to Mountain Home, Arkansas, that week. It's an annual event the North Arkansas Fly Fishers put on, one that boasts some well known fly tiers. This event alone would explain the bulging inventory inside the Blue Ribbon Fly Shop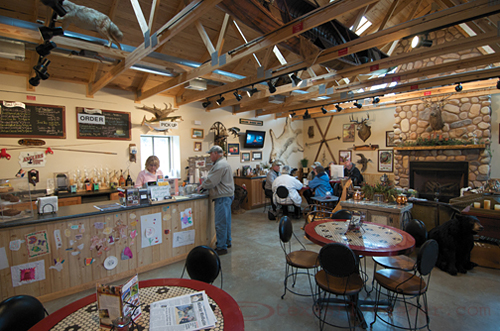 But wait, there was still the Fly Fishers Cafe next door. Rustic, with the smell of good, strong coffee. In the rafters were fly rods donated by the likes of Lefty Kreh, Flip Pallot, and just about the entire who's who of fly fishing. A fly fishing quilt was being raffled off, and it was on display, and behind it a custom made fly tying bench from rough wood. Close, but not too close, to the fireplace was a large square rocking chair.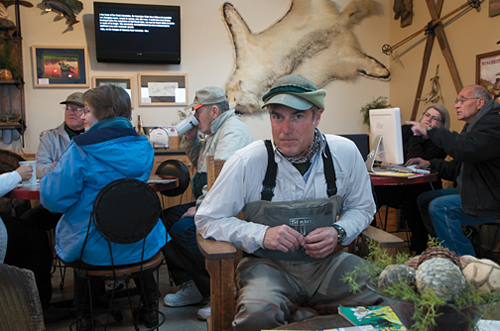 An antique Stickley rocker. My butt's not worth it.
I have a pretty good eye for furniture, and the lines of the rocker looked familiar, and although antique, somewhat modern. About the time "Stickley" entered my mind, the owner was floating through, and stepped up next to me, "That's a Stickley rocker. It's worth five thousand dollars." I don't know if we needed to know the value, but Stickley has always been one of those American Made perfections – art, antique, form and function never-changing. And when I sat down … add fit to form and function. Around me, at tables, sat a cross section of America – young middle-agers relishing their high speed internet connections, and definite retirees – wives in repose as husbands intensely discuss fishing strategy. There I was, rocking away on a Stickley rocker.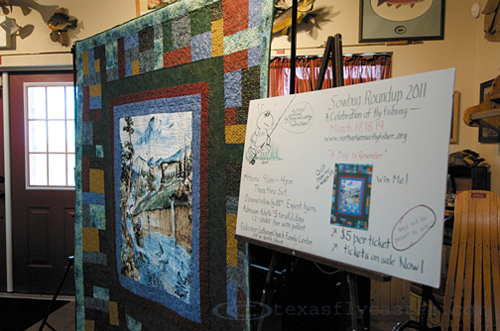 Quilt with fly fishing motif. Funny no quilt maker in my family ever offered to make me one of these.
It was about this time someone in the group discovered they forgot something back at the cabin, so I hung out with Nick talking life, love, work and fly fishing under dark, misty skies. The pace I had arrived in Arkansas with was being worn away, smoothed and slowed, like a river rock rolling with it. Sure I could be flying down the road toward the Norfork, alone and apace, but where's the fun in that. Dusty and Johnny
Time passes, and our group was back in formation and headed out of Mountain Home toward the Norfork along the ridges on highway 5 southbound to Salesville, and off to the left at River Ridge Road. We knew they had not generated on the Norfork for at least the last 24 hours, and driving along the river we could finally see water that looked to be technically manageable, beautiful with pools and runs … and fly fishers, lots of fly fishers.
NOTE – Part 3 "Getting Norforked" will run after I get back from the Guadalupe later this week. I am part of a new pilot episode for a new show (tentatively named) the "Kayak Fishing Journal." This is a great time of year to check the archives from last year. I guarantee they will give you ideas about opportunities to fly fish on your waters right now. I am finding the archives to be a priceless resource when I get tired of scratching my head wondering where the fish are. THEY'RE in the archives!
As always the pledge drive continues through April, so click on ads (and buy stuff!), buy from the TFC Fly Shop, or simply donate to the next volume of knowledge to be disseminated on Texas Fly Caster.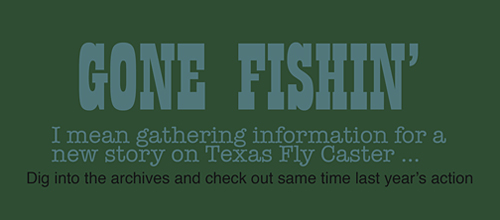 Category: Arkansas Report, Fishing Reports, Fly Tying, Life Observed, On The Road