Captain Mark Becerra is The Flats Guide. He reports here from his home waters on the Lower Laguna Madre at South Padre Island, Texas. Be sure to visit Captain Mark Becerra's website at www.theflatsguide.com.
It is yet the start of another South Texas Spring on the Lower Laguna Madre. The time change and its adjustments to our mind and bodies have been made. The stockpile of flies tied over the winter months (We did actually have a winter this year) are neatly arranged and catorgorized in various boxes. Equipement has been checked, cleaned, and prepped for the next call.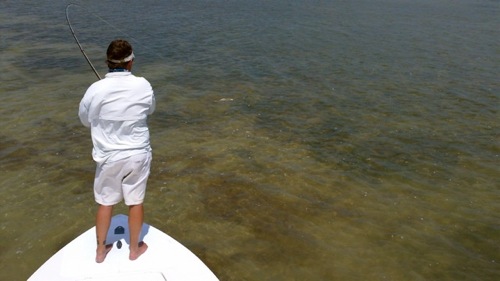 The time to stalk that record redfish or "sow" trout in "booty deep" water is here! The South Texas winds are still reeking havoc on many flats fisherman but with a few adjustments to approching a target while poling or wading successful hook ups are very obtainable. Making adjustments to leaders and flies will no doubt help the cause as well. Embracing these conditions will make for a very enjoyable outing.
After a night of tying flies with the Lower Laguna Madre Fly Tiers at the great Larry Haines' Fly Shop in Port Isabel, Texas a local client and friend, Michael Mascha, and I went out on just such a day. We managed to hook up and land a few nice redfish apiece. Check out a small clip http://www.facebook.com/video/video.php?v=1731416012904&oid=211321241715&comments .
Fishing this time of the season peaks the anticipation of "glass" type conditions that lay ahead. These conditions come with their own set of challenges that are quite the opposite of fishing windy conditions. The need to be extra stealthy and make longer casts to tailing fish can prove to be even more difficult than fishing with the wind. Get out in the yard or the local grassy field and find that max casting distance that you know you can make comfortably. It will be with this information that you will know how close you must be to close the gap between you and your target. A nice and quiet presentation will is a must too.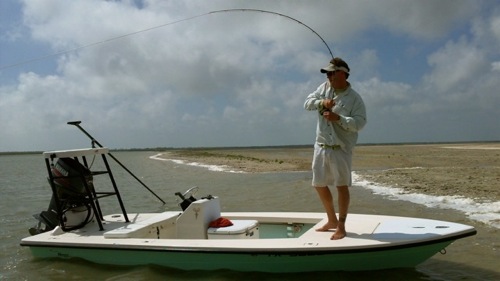 Be honest with yourself when it comes to you casting skills. Everyone wants to be able to zip the entire fly line to the backing but most of the fish caught onboard my Maverick or wading along side me are withing 30 to 40 feet. Sometimes even closer. The South Texas flats of the Lower Laguna Madre are calling and it's time to prepare yourself. There is a record redfish or "Sow" trout waiting for your perfectly placed fly whatever the conditions.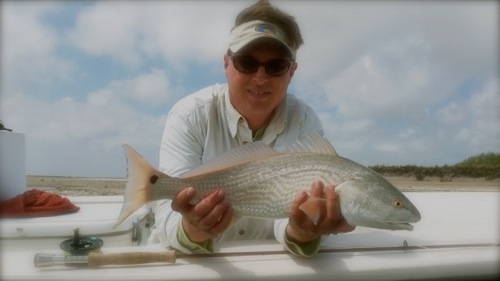 – Story and Photography Courtesy Captain Mark Becerra
Category: Fishing Reports, Lower Laguna Madre