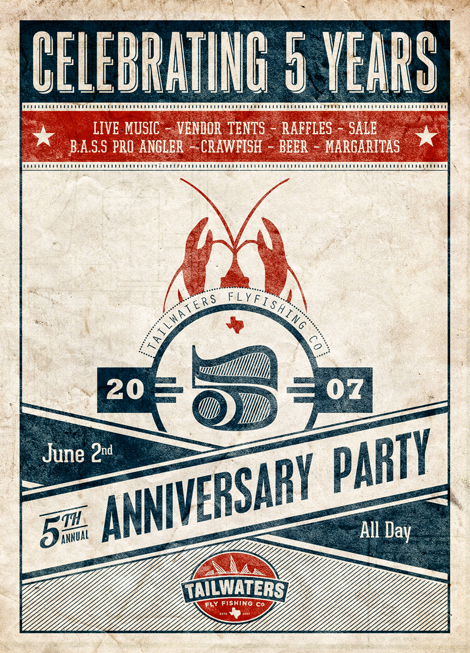 – What would you say if I told you you could see the Wrinkle Neck Mules, find great deals on major fly fishing brands, eat great food, and visit with fly fishing industry professionals and manufacturers – all in the same day? –
Dallas' only mom-and-pop fly shop, Tailwaters Fly Fishing Co., is celebrating their fifth birthday Saturday, June 2, at their store on McKinney Avenue in Dallas, Texas. I have been to a few of these and they are well worth the effort to get there.
And here's the inside skinny; If you get there early, they usually have some great markdowns outside in the parking lot. It depends on what you're looking for, but I scored Mountain Khaki synthetic pants (not the cotton ones) last year for 1/2 price, and also snatched up a dozen bonefish bitters flies at a dollar each! I say "early" with emphasis because when sizes are gone, they're gone.
I will be there at some point (don't come for that though), and you are sure to see representatives from major manufacturers, that have in the past included – Sage, TFO, Simms and others. I will bring you another post in about a week, as more celeb details emerge. If you are interested in guided trips around the world, or near your Texas neighborhood, this is the time and this is the place to check all that out. The locally offered guided trips and guides will be there in the greatest concentration of numbers, at one time, that happens only once a year in North Texas. That alone is worth the free price of admission. Heck, chances are you will learn something you didn't already know – I always do!
IF NOTHING ELSE come out for the fantastic food, and camaraderie. This is the perfect event to attend if you've been wondering what this "fly fishing thing" is all about, and it's the best chance to catch the addiction, or treat your ailment if you've been away from it for awhile.
Be sure to visit the Tailwaters site for more details on the event, and check for more information here as I gather some extremely newsworthy tidbits for you to pursue at the Tailwaters Birthday Bash. It's a great opportunity to corner guides, reps and the occasional industry heavyweight and glean information or give them valuable feedback.
Publisher's Note – I am just back from Matagorda, Texas, and still recovering from about fifteen miles of paddling over two days, a fall on the jetties, and kayaking BTB (no fishing just riding waves) with Salas. The pace has quickened dramatically on my return, and I would have stayed in Matagorda longer, but I have some hot tips to track down on the home water front that just couldn't wait. I am such an idiot, I somehow missed the (old) fact one of the best bands running Wrinkle Neck Mules is actually comprised of the Howler Brothers team! Today is a day I feel like a complete idiot. Stay tuned.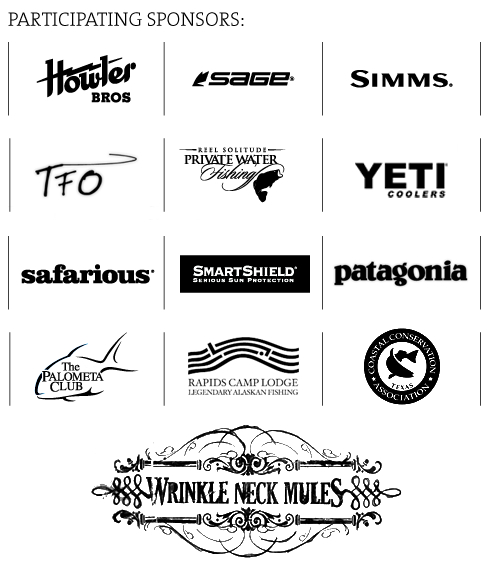 Category: Culture on the Skids, Eating and Drinking, Fly Fishing World Destinations, Fly Shops, Guides, Industry, Store Merchandise