Tag: Plano Orvis
texas fly fishing fly shop
Just off the grill in the Fly Bar, and I must say, for the first time grilling fresh duck from the Sabine, pretty darn good! One of my amigos spent a couple of days hunting out of Port Arthur at the Sabine with an old friend of his on their home waters. On the way back he dropped off a few teal breasts for me to cook for my hard working wife. It's her busy time of year, and I spend a little (more than zero) time keeping her fed for those long hours in her studio at the sewing machine.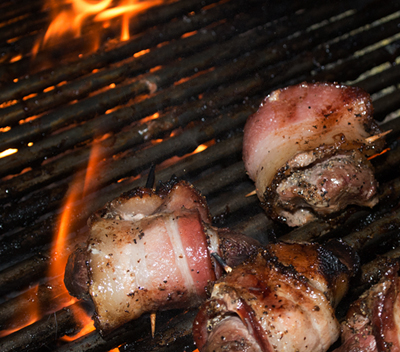 Someday I will do a story on good food photography. This isn't an example.
I wrapped the breasts in bacon (don't hold that thought), and grilled them on high keeping a watchful eye. We're talking bacon on a grill after all. Once the bacon is pretty much blackened on the outer wrap, it's a matter of keeping an eye on it and rolling it around to blacken all sides. Take it off, let it cool – eat. For the first time out, it was quite satisfying. I decided to go with a white wine, and settled on a California – Estancia 2013 Chardonnay. Final verdict: You kill it, I'll grill it.
This slideshow requires JavaScript.
ORVIS GRAND OPENING
I finally made it over to the Orvis Plano grand opening Sunday afternoon, and I can definitely say that store obeys the first three rules of retail; location, location location. Inside is a fresh new design on the floor that makes it seem like there's more space than there actually is. At the back of the store, the fly fishing department sits, loaded with hot rods like the Helios 2 and the more affordable Access. Richard was working and he is certainly tuned in to sharing knowledge with customers and gathering knowledge about fly fishing opportunities outside the 635 loop.
Visiting this Orvis is a no lose deal. REI sits next door, and a few doors the other way – Trader Joes! Feel free to think about bringing your significant other because if, God forbid, they aren't into fly fishing – there are a lot of other businesses around to take your US Dollars.
I did run into a friend at the store as well as a regular reader who I had not met before. That is always a treat, and I appreciate your kind words about the work I publish here. I'm basically talking pretty big about adding a boat to my guiding work here in North Texas, so all I have to do is figure out how to get the folks at Ankona Boats to sit up and take notice. My biggest fear is that the drought continues, and I have to seasonally relocate to the coast to continue guiding. Certainly, there is as much pressure on the rebuild of the Airstream as there is on procuring a boat, if not more, in order to offer more dynamic fly fishing adventures.
Plano Orvis
Although the Plano Orvis has been open awhile, the grand opening is coming this November 15-17
Orvis Plano Grand Opening Celebration
November 15-17
Enter to win a $1,000 Gift Card
FREE giveaways to the first 100 customers each day!
Events on Saturday, November 16:
LIVE music 11:00 – 2:00
FREE food and refreshments
Representatives from Reel Recovery will be on hand to share information about their organization. Reel Recovery is a national non-profit organization that conducts fly-fishing retreats for men recovering from cancer.
The following guides will be present to
share information about their services on November 16:
Flywater Angling Adventures (Steve Hollensed), TX
Orvis-Endorsed Fly-Fishing Guide in Denison, Texas
Rob Woodruff, TX / OK
Orvis-Endorsed Fly-Fishing Guide in Quitman, Texas and Broken Bow, Oklahoma
Doc Thompson, NM
Orvis-Endorsed Fly-Fishing Guide in Northern New Mexico
Call us at 972-596-7529 for information on other upcoming classes and seminars this season.
GET A COUPON FOR $25 off $50 or more purchase – http://www.orvis.com/intro.aspx?subject=13090&newwindow=1