texas fly fishing fly shop
Just off the grill in the Fly Bar, and I must say, for the first time grilling fresh duck from the Sabine, pretty darn good! One of my amigos spent a couple of days hunting out of Port Arthur at the Sabine with an old friend of his on their home waters. On the way back he dropped off a few teal breasts for me to cook for my hard working wife. It's her busy time of year, and I spend a little (more than zero) time keeping her fed for those long hours in her studio at the sewing machine.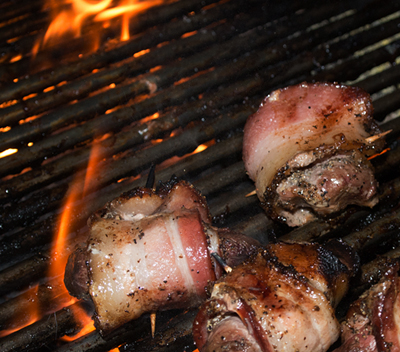 Someday I will do a story on good food photography. This isn't an example.
I wrapped the breasts in bacon (don't hold that thought), and grilled them on high keeping a watchful eye. We're talking bacon on a grill after all. Once the bacon is pretty much blackened on the outer wrap, it's a matter of keeping an eye on it and rolling it around to blacken all sides. Take it off, let it cool – eat. For the first time out, it was quite satisfying. I decided to go with a white wine, and settled on a California – Estancia 2013 Chardonnay. Final verdict: You kill it, I'll grill it.
This slideshow requires JavaScript.
ORVIS GRAND OPENING
I finally made it over to the Orvis Plano grand opening Sunday afternoon, and I can definitely say that store obeys the first three rules of retail; location, location location. Inside is a fresh new design on the floor that makes it seem like there's more space than there actually is. At the back of the store, the fly fishing department sits, loaded with hot rods like the Helios 2 and the more affordable Access. Richard was working and he is certainly tuned in to sharing knowledge with customers and gathering knowledge about fly fishing opportunities outside the 635 loop.
Visiting this Orvis is a no lose deal. REI sits next door, and a few doors the other way – Trader Joes! Feel free to think about bringing your significant other because if, God forbid, they aren't into fly fishing – there are a lot of other businesses around to take your US Dollars.
I did run into a friend at the store as well as a regular reader who I had not met before. That is always a treat, and I appreciate your kind words about the work I publish here. I'm basically talking pretty big about adding a boat to my guiding work here in North Texas, so all I have to do is figure out how to get the folks at Ankona Boats to sit up and take notice. My biggest fear is that the drought continues, and I have to seasonally relocate to the coast to continue guiding. Certainly, there is as much pressure on the rebuild of the Airstream as there is on procuring a boat, if not more, in order to offer more dynamic fly fishing adventures.
The Lord Giveth and The Lord Taketh Away
This week marks a moment of melancholy that hits me this time just about every year. Fifty years ago, I was two-years-old. As unbelievable as it sounds, I remember that date, the date November 22. I question my remembering that date every year, but it's clear that my Grandma made me sit right in front of the TV, a black-and-white on spindly legs supporting a big wood cabinet. And we sat there, and sat there – all of us for hours. She said, "Sit right here. This is history!" I am guessing my Grandma doesn't remember that, at 94 last week, but it also makes me wonder if a life in journalism, photography, and passion for history … that spark didn't strike then in some tiny way. Sure, there were many more years watching the Vietnam war in my living room as a kid that went a long way toward sealing the deal. I don't know about you, but I remember myself as the remote control – having the privilege of changing the channel on the sacred TV while parents watched from a distance. Maybe I just sat too close to the TV?
There were thousands of people in Dallas and Fort Worth that fateful day who saw JFK on his last day living on earth. I happen to have a friend who saw him that day at Dallas Love Field. He was a twelve-year-old along the fence at the airport that day. Of course if you are in this area long enough, you are bound to know someone who knows someone. I interviewed him a couple of years ago and you can click – November 22, 1963 Witness to History – to hear that oral history. If you visit the Museum, he's in a photograph there – the little boy in his boy scout uniform. The father of my first roommate in college, after moving out of the dorms here in Denton, was working (I think his residency) at Parkland and in the melee that day. In 1982, his father still would not talk about it, and he said all the medical staff "swore secrecy" among each other. That didn't last forever, but it didn't change history either.
I was also privileged to tour the Sixth Floor (Texas School Book Depository) Museum before it actually opened. I was along on a press tour that was given in anticipation of the opening. Strange how just being around brings you back around and in touch with history.
THE SPIRITUAL FLY FISHER
As fly fishers, we have an interesting power in our grasp. In our occasional isolation, we can question our version of things, even of US history, over and over. Being out there alone on the water gave me time to really question my version of events like November 22, 1963. As of now, I can't come up with anything other than the belief I actually remember that date.
Questioning memories is only a sliver of what we tap into on when we're on the water isn't it.
THE WEEK AHEAD
How in the heck are we supposed to make heads-or-tails of this weather? It was 85-degrees Sunday. We had an earlier than expected freeze a little more than a week ago. (If I were to guess, these last ten days are the snapshot for weather from now until spring.) The drought continues. It's the doldrums around here. We need to go, as in big G big O. A few days of work, and then? Staring straight at Thanksgiving means one thing – Black Friday. Looks like this one's going down to the wire.
Fly Fishing Boots – Still working on a story on wading boots, and it's a sticky situation. Lots of new styles have been announced for spring of 2014, so the waiting is the hardest part. Luckily some may hit shelves before their announced delivery date.
HAVE A GREAT WEEK, and I trust you to arrive at home and work safely. Distractions abound as the holiday season approaches, so "keep your eyes on the road, and your hands on the wheel," as Jim Morrison said.
Category: Eating and Drinking, Fly Shops, Life Observed, OFF TOPIC