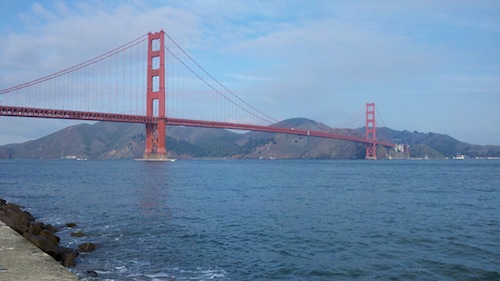 Courtesy – Immanuel Salas
INTRODUCTION – I hope you are enjoying you cool, overcast Sunday afternoon. At least that's the weather report from North Texas. I received a manuscript and photography from a fly fisher and friend Immanuel Salas, who now calls Taylor, Texas, his home. He's quite a character. He's in the "movie business," so let's just say he leads an exciting life. This episode of his travels came about because he volunteered (with pay) to drive some part of a shoot (set) from Austin to San Francisco. Imagine the difficulty of arriving in a foreign country (Northern California), and attempting to pull off a fly fishing DIY! Think Steve Perry of Journey singing "Lights" as you read this and maybe you will find the right frame of mind. All images and words – Immanuel Salas

Work necessitated I drive to San Francisco so I asked for a couple of extra days before I had to fly back. That granted, fly rod packed, I set off from Austin to San Francisco. I had 30 hours of driving to do in 3 days. But, as long as there is the potential for fish, I'm game.
Set out Monday with chilly weather, partly cloudy and changing skies and occasional rain and drove through some of the best deer country Texas has to offer. All the way through Llano, I saw deer on or running across the road, and every town had processing shops open for business. Made it out to El Paso and spent the night at my grandparents and uncle – real Mexican food.
Next morning I grabbed some breakfast tacos and let me tell you; you know your tacos are legit when you get them from a taco shop with barb wire fences.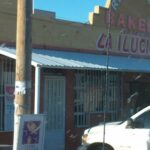 That powered me all the way to Phoenix where I needed to refuel and get lunch and wouldn't you know it: There just happened to be a Cabela's right there. Bought some flies, intermediate line, spare reel and had lunch with my Border Patrol uncle. Those guys do an amazing job.
Then on through to Cali and I figured out the trick to California; avoid LA. I refueled before I reached the nexus of evil, circumvented it and hoteled up in the lovely little town of Santa Clarita.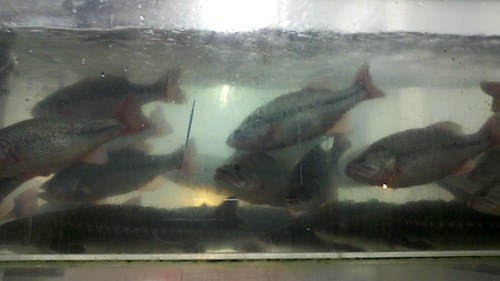 Chinatown largemouth bass in tank. Courtesy photo – Immanuel Salas
Next morning after the continental breakfast, I blazed west towards the ocean. Hit Highway 1 and rode it all the way to Monterrey. Gorgeous. Hardest part was keeping my eyes on the road and off the water. I wanted to fish the whole way, but knew I'd never make San Francisco on schedule.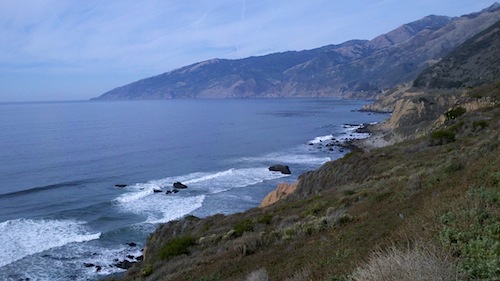 Highway 1 – Courtesy Photo Immanuel Salas.
I passed a place called San Simeon and had to turn around, walk the pier and take some pictures. Water was crazy clear down to 8 feet. Great vistas. Pried myself away and headed north. Made my drop that night and spent the next day on the clock until lunch.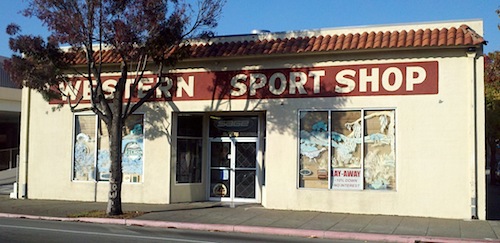 With half a day and restricted to mass transit I decided I'd visit Western Sport Shop in San Rafael, get some info, flies and save the fishing for the next day. Western Sport Shop is a stand alone building that has a ton of fly gear, conventional fishing gear and … guns. A Texas boy couldn't be happier. I talked to an employee named Carlos, and we talked about the area's fishing opportunities. As Texas Fly Caster suggests I always make sure to buy from shops that I visit and ask for advice/directions.
A little reciprocity and great way to get a feel for the place. I also like to identify myself as an out of towner, here for a limited amount of time and intending to catch and release so they are less gun shy about giving me good intel, or afraid to give up honey holes.
Carlos said the bulk of the striper had moved from mid-bay to the north and even into some of the rivers. He suggested three places and, wanting to make the best of my time I asked him to identify them on the map I brought. He circled them, gave a basic description and wished me well. I checked out with another employee and we discussed the 2 striper/day limit as I bought my fishing license. I got the impression they have a pretty negative opinion of their Parks/Wildlife Management out there. They also complained about rule breakers of various types and the difficulty of sporting shops to be successful. It was interesting to get their perspective, but not exactly inspiring. They had a two for one sale on just about everything in the store. That plus some great Puerto Rican food at a spot called Sol Food provided all the inspiration I needed.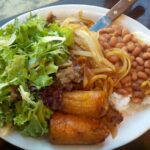 Next morning I was walking from my friend's house towards the shore and the Presidio Park area. I hit the sand, donned the waders and headed in. The water was cold and I was very aware of the pressure and current on my legs. It was awesome. There were tons of dogs playing on the beach with their owners and some sort of women's health marathon so all these mean and lean ladies were jogging by and I was fly fishing in the ocean so I don't think I could have been happier.
Knowing an encounter with striper was unlikely I was hoping for surf perch, rock fish or really any other swimming thing. You have to really watch your back cast out there. There is a restricted area accessible only by wading, but an errant jogger decided the posted signs didn't apply to her so she ran through. I know this because as I double hauled my whistler toward the surf I heard a YELP! I turned to see this lady grabbing her thigh and looking around in confusion. As I retrieved my fly-less tippet I apologized, even though I knew no one was supposed to be there. She ran on, more confused than anything. Don't worry; I found the whistler and tied it back on.
So I walked up and down the beach, enjoying the views, the waves and went across sand, concrete paths, rip rap and eventually landed at a visitor area with hot coffee sent from the fishing gods. There was a public fishing pier, but I didn't see anyone take any fish. They were crabbing though. One guy got too crabby and fell in. It was a little scary, they are out there a couple of hundred yards in cold, choppy water and no way to climb onto the barnacle encrusted pier from the water. Luckily one of his pals tossed him a hand line and dragged him back to shore. He hauled himself out of the water as his pals heckled him until the police and EMS showed up. They gave him the once over and a finger wagging.
Fishing continued all the way to the restricted area at the base of the Gate and I retraced my steps, trying different flies like clousers and little crab imitators. I found a little sand flea about an inch long but don't have anything like that. I covered a lot of water a lot of angles and spent a lot of time but caught zero fish. I had to meet the friends for a late lunch. They came into town for the UrbanAthalon event and I hadn't seen some of them in a year. Otherwise I would have ditched those suckers and fished all day.
The next day I had all day to fish and one of our friends was unable to run the UrbAth and offered to drive me to fishing spots so I was stoked. I had phoned the Leland Fly Shop and the guy confirmed most of the striper had moved north. He did suggest some places in the north to try, but most required a fair drive. He also said that surf perch were getting busy in Pacifica and that sounded really interesting but was again a drive, plus I didn't want my ride to get bored to death. I wonder what it's like to not be a fisherman? I just feel bad for that guy.
I phoned the Orvis Fly Shop and this guy was plugged in with information. Unfortunately for me it was inland trout in the rivers and a few lakes. Nothing against trout. I love them. But I had the need. The need for sea. Good guy though and I'd really suggest visiting this shop.
I thought a run to the San Rafael area would allow me to hit the three places the Western Sports guy told me as well as China Camp which was suggested by a friend. So off we went. My driver friend couldn't understand my giddiness. Strange.
First stop was Paradise Cay and its yacht club. Beautiful area, friendly people. Sandy shore that leads to a rip rap jetty that buffers the yacht berths. I went to the far end of the jetty, by passing the rip rap that seemed pretty exposed to the bay waves, in favor of the bigger rocks and visible structure at the far end and where it hooks right. Water was clear to four to five feet down and about the same out and saw zero bait. Not even tiny guys or crustaceans. Worked it for a while, probed the deep and the structure. Got some snags, but no bites.
Next up was Piper Park. Now this sucked. It was a soccer park, bordered in on three sides by Corte Madera Creek, brackish water that flowed east into the bay. Carlos had told me I couldn't really walk the shore there or wade, but that there was a point I should be able to work. The entire shore line was a mucky mess where I sank with every step. Normally I'd battle my way right through, but I didn't know what kind of California muck I was dealing with and it went on for several yards.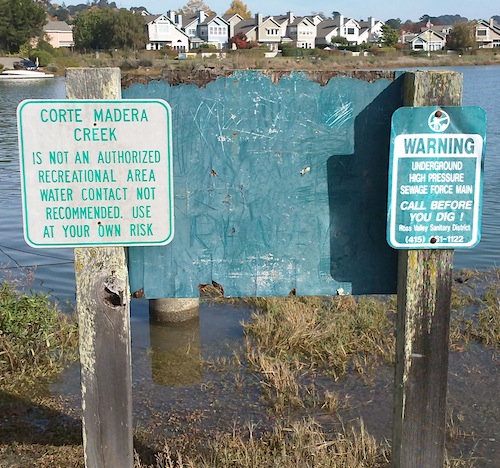 Courtesy Photo – Immanuel Salas
Further west the shore was choked with houses built right on the water. So I looked for the "point". I found a path that led towards the water and while I never found the point, what I did find was a sign that proclaimed "not an authorized recreation area water contact not recommended". I'm not going to drag my fly line through that crap. I left. Remember that this guy circled this exact spot on the map.
I headed to Carlos' second spot on the north side of the west end of the San Rafael Bridge. The south side is San Quentin Prison and since I don't currently have any relatives to visit there I focused on the rip rap on the north side. There is a small parking lot there where I watched two people smoke up in their car. As weed smoke filled their car I shook my head and stripped my line. Off I went. Started with that clouser and was on the move since I didn't see any bait, had no bites.
There is a long fishing pier headed by the Marin County Rod and Gun Club. But there was also a smaller floating pier that provided some interesting angles to anyone wanting to balance on the bobbing platforms. Well, not exactly. Marin County Rod and Gun Clubbers came over and asked me if I was a member and that otherwise I needed to leave -immediately.
I politely apologized, advised I hadn't seen any signs, when they promptly informed me there was a sign on the road. Of course I couldn't see it from the shoreline I walked, but they seemed to think that everyone in the state of California knew better. I wanted to ask them if the two potheads in the smokey mobile were club members, but I remembered I am an ambassador of Texas fly fishermen and politely left.
So Western Sports sent me to Paradise Cay which was pretty, but not fishy (for me).
Piper Park was a toilet. San Rafael Bridge afforded me 100 yards between the bridge and the Marin Co. R & G C. Now the man circled these spots on a map and if there was any other information he should have imparted he didn't. Boo on them.
Not disheartened we took the drive to China Camp. It was mostly a large, beautiful park with great open areas to bike, hike and run. Eventually we reached the shoreline and went all the way to the end where a replicated Chinese fishing camp is maintained. The camp illustrates the conditions of the Chinese immigrants that settled here in the 1900's. There is historical information, period buildings and a dock protruding into the bay. And lots of tourists and day parkers.
Someone had the audacity to grill some delicious smelling burgers and not offer me any. OK, I was hungry – for a tug on my fly line anyway. The shore alternated between cliffs, craggy boulders, sandy and pebble shores rocky points and small islands. Beautiful. Cold water, no real sense of current, light winds. And no fish. Dang. On the way out two bait fishermen nabbed some striper off the dock. I headed over to check them out. Looked nice, 16inch, maybe 18inchers?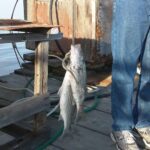 I was happy for them. As I contemplated whether to stay and fish and maneuver my back casts amongst tourists and the dock's structure I saw a game warden approach. The fisherman said he thought the fish were legal, but now wasn't sure. Uh oh, I have to get away from this situation. I smiled and said "Howdy" as I passed the warden on the dock. He headed for the stripers, and I left. Zero fish for two days, lots of ribbing from my friends that now doubt my fishing abilities.
I loved seeing the west coast, wading in its waters and enjoying its views. I also had fantastic food and enjoyed a great nightlife. As a distant third; I enjoyed my friends' company.
Basically a paid fishing trip with great food and friends, so I can't complain.
Hope you catch more than you complain –
Immanuel
NOTE – Now that's a report, or novella if you like! I appreciate the words and photography from Immanuel, and have another post of his waiting in the wings – flounder at Galveston. Look for that in a couple of days. Highlights for me include; a) caring more about finding his fly after sticking that lady on the backcast, b) placing friends distant third after, c) telling it like it is – on fly shop information accuracy.
Category: California Report, Culture on the Skids, Fishing Reports, Reader Contribution