F3T Fort Worth texas fly fishing #flyfishing world bass on fly championships lake fork
Sunday is just another work day, when you know better than to fish public parks and lakes in North Texas. Or, it's a church day. Just depends on your religion, and your personal economics.
While I feverishly work to finish production work on several photo shoots, I also wander over to check out the details on tonight's Fly Fishing Film Tour stop in Fort Worth, Texas. Even though nothing could come close to the atmosphere of the F3T I saw on the Guadalupe River a few years ago, it's still a great fly geek watching event – wherever it shows up! Don't bother to go to the "Tickets" part of the F3T site – it completely crashed my computer after telling me tickets are available through the Backwoods website.
For those of you who have never been to a Fly Fishing Film Tour event, you have to sample it at least once. There are, sometimes more sometimes less, freebies, reps for fly companies, give aways and a circus atmosphere that is hard to describe. It's a lot like going to movies in Los Angles. The crowd really gets into it.
This week is solid busy! Images from the trip to Texoma for striper on fly, and the list is growing instead of shrinking. It's an abbreviated week, as Saturday is the WORLD CHAMPIONSHIP BASS ON FLY TOURNAMENT in Lake Fork, Texas, and I'll be there Saturday to compete in that one (safely from shore).
If you don't already subscribe to the Texas Fly Caster Newsletter, there's a new one on the boiler right now, and will be out this week. Sign up for the newsletter in the box on the left hand side of the site. There will be news about the BOGO, the skiff shopping, and more NEWS …
Here's a Texoma preview –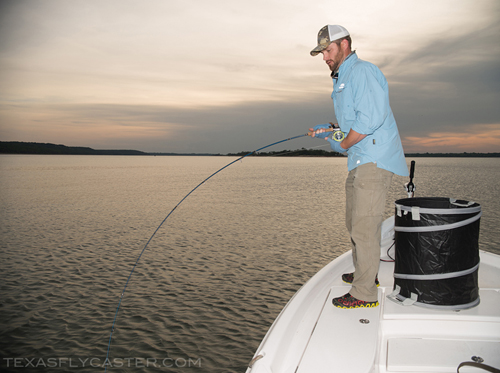 – Just imagine what the rest of this trip was like!
Category: Backcasting, Culture on the Skids, Events, Movies DVD Video