Spring sprung, and then it recoiled. Temperatures here at night are hitting the upper 40's and our last round of rain finally moved off leaving my section of the garden sufficiently watered for yet a few more days.
The largemouth bass action that was on the flats, has been taken back down – probably due to the rapid cooling of the shallow water. However, the carp seem unaffected except that they are extremely lethargic and finicky in the cooler morning water. Generally, for the next week, you can expect them to turn on and eat about lunchtime. Once spring heats up again, we will probably see more normal patterns.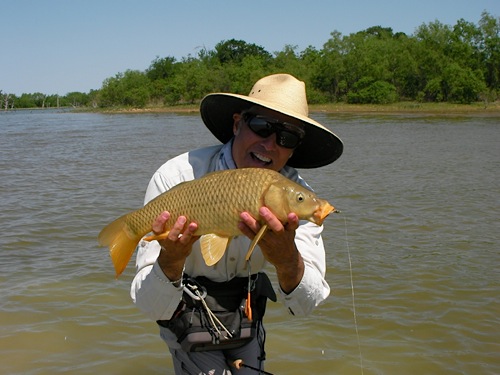 I did a little recon. with Joel Hays yesterday, and we managed a couple dozen very pretty carp between us. We are starting to see (saw and caught) one with a through-and-through arrow wound that had healed properly, so you should expect fewer details about carp locations as the days, months and years go by. You will only be able to find more details on the pay section of the message boards, and I will be cross referencing members there to internet searches of bow hunters – it's amazingly easy to do actually.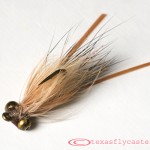 If are interested in trying your hand at carp on the flats, you can contact Joel Hays through his site www.dfwflyfishing.com, or do it yourself with the help of the Coyote Carp Fly (CCF) for sale here. You can also tie the CCF for yourself by watching the Youtube video at – http://youtu.be/lrf9Aam0ZXo .
Of course, like most flies, the CCF is not limited to just the lovely carp. Here's a recent letter regarding the CCF:
Yo, Shannon:
Bought 3 of your coyote carp flies last fall & just recently gave 'em
a try here in a local (Lubbock) park lk. Result: 5 fat crappie & a
nice green sunfish. Probably fishing it too fast for carp, but plan to
remedy that next time.
Must have more flies …
PS As you suggested, I made a point of
"muddying" the fly prior to use, & obviously it worked! Is that a
scent
consideration or just some kinda carp voodoo that yoodoo? Not that
there's anything wrong with fish voodoo – I was just wonderin'.
PPS Some ner'do'well in the bar the other night rudely interrupted my
finely-crafted CCfly tale & opined that you probably use roadkill to
tie the CCfly. I tried polite reasoning at first (usually a waste of
time on beer-sodden louts), but eventually had to resort to more
direct methodology to correct his misconceptions…Suffice it to say
that the honor & reputation of the CCfly was restored. All's well that
ends well.
PPS Do I get fries with my flies order?
I think we have a believer out in West Texas.
Category: Culture on the Skids, Fishing Reports, North Texas